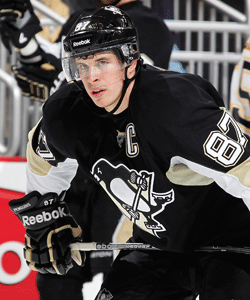 For the first time in almost a month, the Pittsburgh Penguins have issued an update on Sidney Crosby's recovery effort. It's a little bit of good news, little bit of bad news.
The good news is that Crosby is working out with the team, even if they are of the "light" variety. That's what coach Dan Bylsma had to say on Tuesday.
The bad news, however, is a lot worse than the good news is good. Bylsma also shared that Crosby continues to experience concussion symptoms.
It has been just about a month since Crosby last played, a home loss against the Boston Bruins. It was his eighth game since returning from a 10-month absence due to two concussions he suffered in January. So the fact that he's still experiencing the symptoms is very discouraging.
The team has not announced that Crosby suffered another concussion, saying only that he passed the ImPACT test. That means it's possible that these are effects still being felt from his original concussions. Either that or he suffered another one and it wasn't detected, certainly a possibility.
We have learned our lesson already, it's pretty much impossible to put any kind of timeline on a recovery from a concussion, but it sounds like we're still a ways away from seeing Crosby back in game action.
Photo: Getty Images
For more hockey news, rumors and analysis, follow @EyeOnHockey and @BrianStubitsNHL on Twitter.