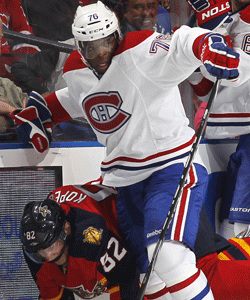 It's been an eventful end to the year in Florida. On Friday there was the scrum in the closing seconds of the game that saw Tomas Kopecky punch the Rangers' Michael Del Zotto after being hit in the head with Del Zotto's stick. After the game Florida's Krys Barch talked about there would be scores to settle when the teams meet again next week.
After Saturday night's game against the Montreal Canadiens, Barch might not be there to take part in the settling.
The enforcer the Panthers acquired earlier this season in a trade from the Dallas Stars was given a game misconduct at the end of the first period when the teams had a fracas in front of the net. At first it wasn't immediately clear as to why.
Then George Richards of the Miami Herald reported that the word from the linesman Darren Gibbs was that the reason for the ejection was the fact that Barch hurled a racial slur in the direction of Canadiens defenseman P.K. Subban, who is black.
Renaud P. Lavoie of RDS in Quebec confirmed after the game that Barch was ejected for using a racial slur. He reported that Subban didn't hear the insult but the linesman did.
Panthers general manager Dale Tallon had no comment at the end of the second period but team general partner Cliff Viner shared his disappointment over the incident with the Herald.
"This is not what the character of this organization is about. Period. I'm devastated by that kind of behavior. That is not what we're about as an organization, a team, coaching staff, hockey operations.

"Dale, I'm sure, will be very critical of this. I hope they talk to the team and let them know this is unacceptable. You play hard, you fight hard. But that's not part of any competition."
After the game, Panthers coach Kevin Dineen addressed the Barch incident (also from the Herald).
Said coach Kevin Dinnen: "We have a broken up player back there. He feels extremely bad that there was an insinuation that something inappropriate was said. Now it's a league matter. Obviously the Florida Panthers and Krys Barch are really shoken up about this."

Subban told the Montreal media that he didn't hear a slur and that no one else on his team did either. Erik Cole added that he heard something but wasn't sure what. To paraphrase, he said it could have been something related to Subban's parents.
As Dineen said, now it becomes a league matter. That means it will fall to the league offices, but not Brendan Shanahan's desk. Instead, player conduct issues fall under the jurisdiction of Colin Campbell, the former discipline czar.
Barch's agent, Scott Norton, said he spoke to his client after the game and defended Barch.
"Spoke to client Krys Barch and I 100% stand behind him that there was no racial motivation at all involved! Truth will come out. I have known Krys Barch since he was 15 yrs old, and he is a quality, character human being. He did not, nor would ever, make a racial slur."
Unfortunately, this is something that is still seen around hockey. Even infrequent cases are still too often. Remember in a preseason game between the Detroit Red Wings and Philadelphia Flyers in London, Ontario, Philly's Wayne Simmonds, also black, was moving in on net in the shootout when a fan threw a banana peel on the ice.
Nor is it the first time that Subban has had to deal with some racial insensitivity, if it did happen here. Last season some fans thought it would be a good idea to wear blackface to a game while wearing "Subbanator" shirts.
You don't need me to tell you there is no place for discrimination in the game. When you start to think that it is no longer a problem in the sport, something like this happens. I'm not here to call Barch a racist, I don't know him personally. But if he did use a racial slur he is going to be viewed as such by many.
Photo: Getty Images
For more hockey news, rumors and analysis, follow @EyeOnHockey and @BrianStubitsNHL on Twitter.