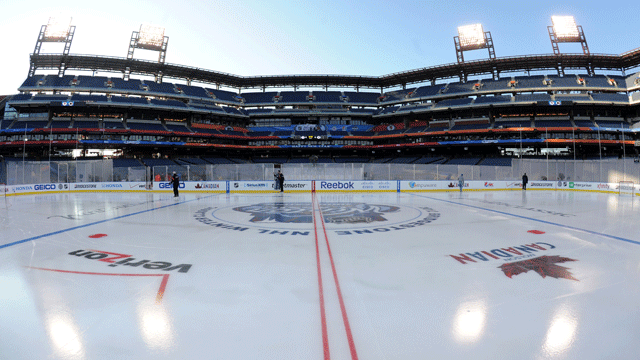 It's hard to remember the Winter Classic is just another game on the schedule. In reality it is just that. The winner of this game gets nothing more than two points in the standings.
But in practical purposes, the Winter Classic is anything but normal. It is annually the most-watched game of the season and it's not even close. It's commonplace for players and even coaches on occasion to do some chirping before games. But general managers throwing down the gauntlet like the Rangers' Glen Sather did a couple months ago? Yea, that's no ordinary game.
Plus, you know, they play it outside and all.
Without further ado, let's look ahead to the NHL's annual "celebration of hockey" on Tuesday in Philadelphia between the Flyers and the Rangers.
The weather
It goes without saying this is the only game of the season when this matters now that the NHL has stopped the Heritage Classic in Canada.
The initial game-day in the extended forecast called for rain and warm temperatures. That has been altered, for the good. Now the game-time temp is supposed to be 41 degrees and the only element to deal with will be the wind, where it is expected to blow in excess of 20 MPH.
So the ice itself should be alright for the game. As for the wind? It might have an impact, but we're not talking football here where the ball will be affected by strong gusts on field-goal attempts or deep passes. It sure beats precipitation fogging up visors.
Home-field advantage
Not in this game. There is virtually zero home-ice advantage of which to speak in the Winter Classic. Both teams are equally inexperienced with the sheet of ice in Philadelphia. Despite two times the amount of fans in the building, the noise level doesn't factor in. As a matter of fact, it's diminished with fans so far from the ice and no roof.
"I think you go back to our building over there when it matters and when it counts to have our fans behind us, I think it's really important," Flyers coach Peter Laviolette said on Sunday. "We are looking forward to getting here and on this ice out here in front of that many people and having a great game."
But the points stands, don't expect the Flyers to have a big advantage just because they're the home team and the Citizen's Bank Park seats will be full of folks garbed in black and orange. Of the five Winter Classic games played to date, only one of them has seen the home team come away victorious and it took the Bruins an overtime period to beat the Flyers in 2010.
One advantage that I suppose you can credit to the Flyers is the fact that they have multiple players who have experienced Winter Classics before thanks to that game at Fenway Park two years ago. I put little stock into that, however. Once the game begins, experience means squat. Rangers coach John Tortorella agrees that won't mean much.
"We have kept our schedule, our whole way we have gone about our business has stayed the same and it will say the same tomorrow," Tortorella said. "We go day-to-day as far as how we prepare and that's what we have done right on through this, we'll be doing the same thing as we get ready to play tomorrow."
Goals not galore
Just continuing to look at the trends of past games, don't expect to see a lot of scoring. Only the game at Wrigley Field between the Red Wings and Blackhawks showed off much in the way of offense as the teams combined for 10 goals. The other three games combined have only seen nine goals (the Penguins won in a shootout).
That could just be as simple as a coincidence, there certainly is not a big sample size we're talking about here. Or it might be a real trend. I'd like to think that some of the uncontrolled elements play a role the lack of scoring in games, particularly factors such as glare, discomfort and surroundings.
I'll take my chances and say don't expect a lot of scoring on Monday. That's a bit easier to say knowing Henrik Lundqvist will be manning one crease.
Fighting chance
Half of the Winter Classics thus far have seen a fight. Each of the last two renditions featured impromptu boxing matches. So it's not like the players are going to shy away just because of the spotlight.
In the case of these two foes, there is a lot of dislike to put it mildly. Only the Blackhawks-Wings tilt compares favorably to this year's matchup in terms of a true rivalry. So it's likely some bad blood will spill over.
That seems especially plausible when you realize that last year's fight between the Penguins and Capitals featured Mike Rupp facing John Erskine. You'll recall that Rupp signed with the Rangers in the offseason so he'll be on the ice on Monday.
Players to watch
First for the Rangers, keep tabs on Brandon Dubinsky. The young Rangers forward was off to a very tough start this season, it had to be frustrating. It wasn't until Dec. 22 that he scored his second goal of the season. For a guy that had 24 goals last season, that's quite a drop.
However he is starting to return to the mean. What, you thought that only worked in the regression sense? Not exactly. Dubinsky enters the Winter Classic having scored a goal in each of his last two games and three of the past five.
For the Flyers, I'd love to say Ilya Bryzgalov but he's just going to be sitting on the bench, enjoying his tea in a thermos. Now if NBC can just get him mic'd up for the game, they'd have the best on-ice commentator in the sport for the broadcast, with all due respect to Darren Pang.
However it does mean that the actual Flyers starter, Sergei Bobrovsky, will be worth keeping an eye on. He's been playing very well lately for the Flyers and with Bryzgalov's struggles, this could be an opportunity for Bobrovsky to stake a big claim that he should continue to get a lot more playing time. Remember, it was just a season ago that he was their starter and came to the NHL with a lot of promise.
Prediction
I'm a sucker for trends, so I'm going to stick with them in this game. I've got the visiting Rangers winning a low-scoring affair. Plus, in a situation like that I'll take Lundqvist over Bobrovsky. I'll put my name down for a 3-1 prediction in favor of New York.
Photo: Getty Images
For more hockey news, rumors and analysis, follow @EyeOnHockey and @BrianStubitsNHL on Twitter.