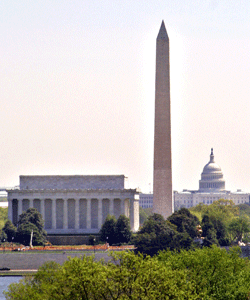 Before the Winter Classic was finished in Philadelphia on Monday, the speculation was running in the press box of Citizen's Bank Park: Where will the next Winter Classic be?
After the game, Gary Bettman said the NHL had not put together a short list but judging from past Winter Classics -- i.e. temperature, time zone, TV draw -- you can get an idea of where they might look to.
One of those places, it was assumed, was Washington D.C. It has been out there that Capitals owner Ted Leonsis was essentially promised a winter event coming to D.C. in the near future so many speculated it would be next year. Speculation over: it's not happening.
In his personal blog, Leonsis addressed the matter on Tuesday, also talking about the possibility of a game being played on the National Mall, the strip of landmarks that stretches from the Capitol to the Lincoln Memorial with the Washington Monument, World War II Memorial and Reflecting Pool in between.
So – to set the record straight – there has NOT been any communication to us on a formal basis as to a Winter Classic coming to DC in a specific year. I have been told that the Winter Classic will NOT be coming to DC next year though. I have also been assured that because of the size of our fan base – and the beauty of our city – that a Winter Classic would come to Washington DC; at some point in the future. And that is good enough for me.

Also– the idea of a game being played on the Mall has been floated around for many years – it is NOT feasible; there aren't enough common areas to build out seats – and the expense involved to create locker rooms; icestands and studios are prohibitive. The Mall is managed by the National Park Services; as well.

I am sure that one day – when a Winter Classic does come to DC; we will be creative and have fun and put on a great show. There are great venues for us to utilize and great theatre that we can create for NHL fans and our large fan base here in the DMV.
I guess that takes care of that one, now doesn't it? The D.C. Classic will have to wait longer but there is still a definite vibe it will happen. It's just too bad the Mall can't be done, that would make for an unbeatable setting.
The rumor that was picking up steam before Leonsis' posting was that Detroit is the favorite to host the next game, a good bet to be sure. There is even some talk being thrown out there that the Toronto Maple Leafs could be the opponent, a somewhat surprising idea since the Winter Classic has shown to be an American event designed to draw interest in the USA and garner ratings. Personally, I never thought having a big-market Canadian team would hurt but it didn't seem to appeal to the NHL.
Could they host it at the Big House, the University of Michigan's football stadium? Of course they could, the stadium has held more than 100,000 people in the past for a hockey game. However, don't forget that Red Wings owner Mike Illitch also owns the Detroit Tigers and he'd have a lot of say in the event being played at one of his team's venues, Comerica Park.
Photo: Getty Images
For more hockey news, rumors and analysis, follow @EyeOnHockey and @BrianStubitsNHL on Twitter.