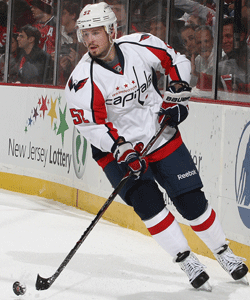 Things are starting to turn around for the Washington Capitals, it seems.
The Caps ended 2011 with a run of three consecutive wins, their first such stretch since the season-opening seven-game win streak. Now they are going to start 2012 with one of their most important players back, defenseman Mike Green.
Judging by the fact that the Capitals are 8-0-0 this season when Green plays, it's not a stretch to call him arguably the team's MVP. He isn't the sole reason why they are unbeaten when he plays, but it sure helps matters. The Capitals will welcome his three goals and three assists in just eight games this season on the blue line.
"Finally," Green said after Tuesday's morning skate. "It's been frustrating sitting out and obviously a couple months ago coming back and then the first game back, back on the press box. I'm just happy to be back, focused. Preparing to do the right things tonight and that's all that's on my mind right now."
As I said, his return from a groin injury that has kept him out since Veteran's Day comes at a moment right when the Caps appear to be finding their footing and showing everybody why they were pegged as a Stanley Cup contender. Alex Ovechkin, who was behind even last year's career-low paces until recently, has found his touch. He has four goals in the last two games. He has six goals in his last six games, including three straight multi-point games, his first since Nov. 4.
But the Caps won't be showing off their full complement of players on Tuesday against the Calgary Flames in D.C. One player who will not be on the ice is Alex Semin, who is currently listed as day to day. He, too, has picked it up recently since the Ovechkin, Semin and Nicklas Backstrom line was reunited. He has five goals and four assists in the last seven games.
Instead, coach Dale Hunter is going to suit seven defensemen, a rarity for the Caps under Bruce Boudreau. But it makes sense, there's no telling how Green is going to play and what type of minutes he can give the team. Good to have some insurance on the bench.
"I think you've got to ease yourself in," Green said. "I'm not going to be jumping up all over the ice or whatnot. I think it's important for me to get my game back and it's better that I do that slowly rather than quickly. I don't intend on being up and down the ice tonight."
Sounds like some defensive insurance on the bench is a pretty good idea.
Hopefully for the Capitals and Green, he can stay healthy this time. That's been a bug-a-boo for him recently. In addition to the groin injury he is recovering from, Green missed time earlier this season with a twisted ankle and fought a concussion through much of last season.
Photo: Getty Images
For more hockey news, rumors and analysis, follow @EyeOnHockey and @BrianStubitsNHL on Twitter.