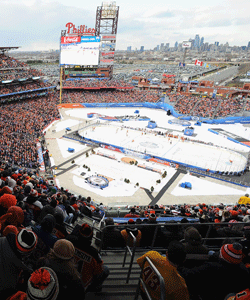 The 2012 edition of the Winter Classic might have arguably been the best game, but it was the worst in another category: ratings.
The overnight rating for the game Monday between the Philadelphia Flyers and New York Rangers drew a 2.4 on NBC, down from last year's 2.8 and below the high in 2009 of 2.9 in the game between the Red Wings and Blackhawks at Wrigley Field.
Looking at the overnight ratings (from Sports Business Journal) in the two participating cities -- Philadelphia and New York -- Philly had a very solid 11.9 while New York produced just a 4.3. Steve Lepore of Puck the Media points out that's well below what the Knicks drew for their Christmas game against the Celtics, a 7.2.
Time for the question that everybody is thinking ... is this a sign that the novelty is wearing off? Too soon to tell, honestly. This game had some differences from years past, the primary one is the fact that it was played on Jan. 2 instead of New Year's Day. Blame the NFL for that one.
Another factor that some are citing is the fact that the start of the game was delayed two hours, beginning at 3 ET instead of 1 p.m. I don't buy that as a good explanation. Last year's game between the Penguins and Capitals was pushed back until 7 p.m. ET and it drew a 2.8. A later start presumably means that you have a chance for more viewers on the West Coast, no? But to be fair, 3 p.m. isn't prime time like last year was.
But to keep things in perspective, it wasn't a massive drop. A 2.4 rating is still going to beat any other hockey broadcast during the regular season. In that sense it's still a very good number of viewers. But as an NHL fan, I'm greedy. I want to see these numbers continue to climb. At the very least, I hope that it causes the rest of the national broadcasts to see jumps in their numbers in the windfall of a very good Winter Classic.
Photo: Getty Images
For more hockey news, rumors and analysis, follow @EyeOnHockey and @BrianStubitsNHL on Twitter.