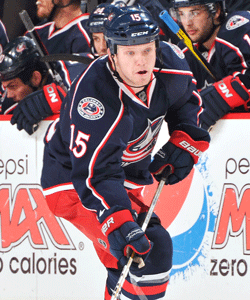 Columbus Blue Jackets forward Derek Dorsett is a known agitator, one of those pesky players. He can get under opponents' skin. Or hit with their saliva.
In the Blue Jackets' New Year's Eve home loss to the Washington Capitals, Dorsett was seen getting angry with Caps captain Alex Ovechkin after a little dustup between the two in the second period. Each player was given a minor (Dorsett for cross-checking, roughing for Ovechkin). Dorsett proceeded to yap at Ovechkin in the boxes and after their penalties. Why?
"I haven't told many people this but he spit in my face," Dorsett told Shawn Mitchell of the Columbus Dispatch. "That got me a little more mad."
He explained that the spitting happened during the aforementioned dustup.
"That's why I was yelling at the ref so much and yelling at him in the penalty box," Dorsett said. "I find that pretty disrespectful. That's probably one of the most disrespectful things someone can do, especially a guy who is the best player in the league. It's classless. He's supposed to be a role model for the game. It's unbelievable."
That's a pretty serious accusation. I mean, nothing would likely come from it without video evidence other than damage to Ovechkin's already polarizing image, but spitting on somebody else is a no-no, particularly in sports. Just look what it did to Roberto Alomar's career when he spit on an umpire over a called strike.
On Wednesday Ovechkin denied the accusation at the Capitals' practice.
"No, no, no," Ovechkin told the Washington Post. "I don't know. Show me that moment, I want to see it. No."
This didn't come to light without Dorsett saying as much, which leads me to believe that there's no video of this. Somebody with a keen eye would have seen it during the broadcast and would have already been a viral video. So it's going to just come down to Dorsett's words against Ovechkin's.
Here is video of the dustup when Dorsett claims Ovechkin spit on him, courtesy of Deadspin. You sure can't see anything flying from Ovechkin but you do notice how upset Dorsett is as he yells at the officials.
Photo: Getty Images
For more hockey news, rumors and analysis, follow @EyeOnHockey and @BrianStubitsNHL on Twitter.