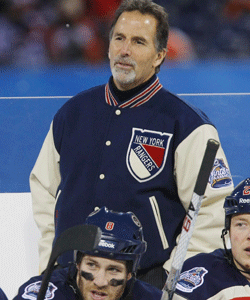 You knew it was only a matter of time before John Tortorella would apologize for his remarks regarding the officiating in the Winter Classic. Either that or face a fine (or both, which is still entirely possible).
Following the Rangers' 3-2 win at Citizen's Bank Park, Tortorella was asked about the officiating at the end of the game. He went on to joke -- at least that was my impression there -- that NBC and the NHL were conspiring to take the game into overtime. He went on to call the officiating disgusting. Of course that perked some ears in the NHL offices.
Well on Wednesday Tortorella began the backtracking, explaining in his apology that he said his comments re: NBC were tongue-in-cheek but understands they might not have come across that way. Here is his apology from the Rangers' website.
"They were sarcastic comments by me at the wrong time, and it was frustration on my part, as far as the referees on my part and what was done at the end of the game," Tortorella explained. "Not for a second in no way, time, shape, or form did I think anything like that [fixing the game so that it goes to overtime] goes on within our league, or ever will."

Tortorella added that his comments regarding the referees meeting with NBC to conspire at having the Winter Classic go to overtime were completely "tongue-in-cheek." "For me to question the integrity of the league, the integrity of NBC, the integrity of [referees] Denny [LaRue] and Ian [Walsh], the Flyers, the Rangers, go right on through all the people here -- there's not a chance I am thinking that way," Tortorella continued. "It was wrong with my sarcasm and my frustration and I apologize to everyone involved.

"I tainted the Classic with my mouth," Tortorella said.
In his apology, Tortorella explained that he went so far as to call everybody he could think of to apologize to, including Flyers GM Paul Holmgren. Tortorella has apologized to just about everybody, except the referees who he did call good referees before criticizing them on Monday. He's saving those apologies for in-person.
I don't know Tortorella very well in the coach-reporter sense, but I've had the chance to be around him and see him in the locker room after a few recent games. He has a gruff exterior to be sure, but he has a sincerity to him. I respect the fact that he's taking his apology as far as he is, including apologizing to the officials in person.
With that said, you can't criticize league officials, jokingly or not. Behind every joke lies some truth, so they say. The over-the-top part about the conspiracy was obviously the joke, but his criticism of the officials still had some seriousness to it.
Photo: Getty Images
For more hockey news, rumors and analysis, follow @EyeOnHockey and @BrianStubitsNHL on Twitter.