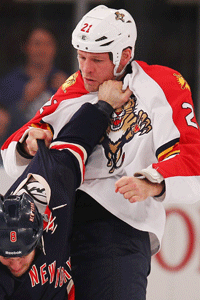 Florida Panthers forward Krys Barch was given a game misconduct in the team's New Year's Eve victory over the Montreal Canadiens at the end of the first period. Why he was booted remained a mystery until after the game when it was revealed the reason for his ejection was his use of a racial slur toward Habs defenseman P.K. Subban.
After the hearing was delayed for a couple of days (the Panthers haven't played a game since then), the NHL announced on Thursday that Barch was suspended one game for insensitive remarks.
Notice the use of the language. Insensitive remarks instead of racial slur. Barch was adamant that what he said wasn't racist. Barch told Jesse Spector of the Sporting News that Colin Campbell didn't see it as racial.
"If there was any question that this was racial, you'd be done five to 10 games, and [the decision] would be done the day after," Barch said, quoting Campbell.

"I never would ever say anything unjust or racial toward somebody else," Barch told Sporting News.
As for what he said, we'll never know for sure. But Jeff Marek of Sportsnet reported that it was something along the lines of "did you slip on a banana peel?" after Subban fell to the ice following a scrum.
Here is the statement from Campbell regarding his decision.
"Mr. Barch has admitted making the remark, but denies that the comment was racially motivated," Campbell said. "While we accept Mr. Barch's assertion, as a player in the National Hockey League, he must be held accountable for making a comment that, in the context in which it was made, and in light of the entirety of the circumstances, was offensive and unacceptable."
If that's what he said, I'm failing to get the logic of it all. If Campbell doesn't see that as a racial statement -- very much in the air, some will see it that way, some won't -- then why is it suspendable at all? What about using a Vaudeville-esque comedy bit in a chirp is seen as being worthy of a suspension if you don't believe it was a racial statement?
"There is no debate over what was said," Panthers coach Kevin Dineen said. "The content or the context of the comment can and should be debated over what the intent of the comments were. I have a lot of respect for Krys Barch and how he's handled himself the past five days. This has been extremely tough on him. At the end of the day, all the information was laid out there. We respect the league's decision and move on."
There are a lot of people that are going to be taken aback by the brevity of a one-game suspension for Barch's alleged actions. It seems to be a light sentence when compared to Sean Avery getting six games when talking about his ex-girlfriend and using the term sloppy seconds. Many are going to say it's another example of Campbell's old wheel of justice. Remember, it's still Campbell's duty to deal with player conduct cases, not Brendan Shanahan's.
This is in pretty stark contrast to Avery, who clear-as-day said his suspendable words to the gathered media. Plus, the intent of Barch's words is debateable, those of Avery were not.
It's worth noting that Barch called Subban personally and explained to him that there was no racial intent behind his comment at all and Subban understood.
To me it feels like the suspension is being given to Barch because the NHL feels there has to be a suspension. This was a much-discussed story when it happened. But I just can't understand how the NHL can view it as non-racial but still worthy of a suspension. It feels like an image decision more than anything.
Photo: Getty Images
For more hockey news, rumors and analysis, follow @EyeOnHockey and @BrianStubitsNHL on Twitter.