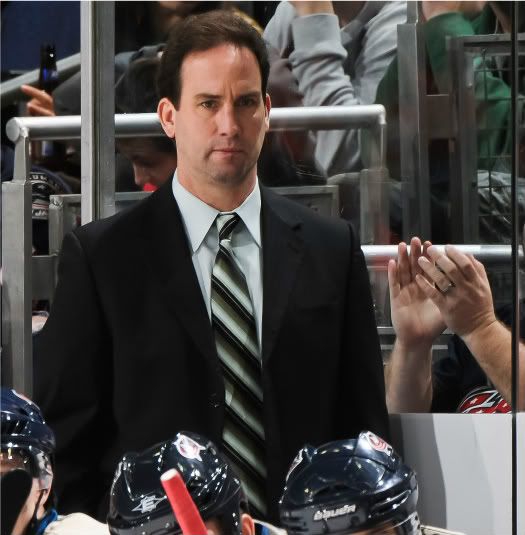 By: Adam Gretz

On Monday morning the Columbus
Blue Jackets
pulled the trigger on a move that had been anticipated for some time now.
The team fired head coach Scott Arniel following a 7-4 loss in Anaheim on Sunday that dropped the Blue Jackets to a league-worst 11-25-5. Arniel will be replaced on an interim basis by former Minnesota
Wild
head coach Todd Richards.
It seems like this is a move that probably should have taken place some time ago given how bad the Blue Jackets were from the start of the season, roaring out of the gate by losing their first eight games and 10 of their first 11. It was a massive hole that was (and still is) too deep to overcome, and it's getting deeper by the day. Right now there are only seven teams in the NHL that are more than five points out of a potential playoff spot. The Blue Jackets are 20 points back.
A couple weeks ago general manager Scott Howson refused to place the blame on the coaching staff, and talked about how the team was going to look to be active in the trade market.
Obviously, there were some problems in Columbus. Young, skilled players like Derrik Brassard and
Ryan Johansen
were relegated to fourth-line duty, or even the press box on some nights, with Brassard's agent, Allan Walsh, putting the crosshairs on Arniel for,
in Walsh's words
, "a history of burying players and using them as scapegoats to mask his own lack of success on the ice."
Whether or not Arniel was a good or bad coach, or if a change needed to be made (it's pretty obvious
something
needed to happen), the situation in Columbus has been ugly in every possible way. Injuries have piled up,
including the most recent one
for summer acquisition
Jeff Carter
on Sunday, while the goaltending, particularly from former Calder Trophy winner
Steve Mason
, has been among the worst in the league. The Blue Jackets currently have the second-worst team save percentage in the NHL at .893, narrowly ahead of the Tampa Bay
Lightning
. On an individual level the only goalie with a worse mark than Mason's .883 is
Dwayne Roloson
.
Arniel ended up lasting just a season-and-a-half in Columbus as the team put together a 45-60-18 record during his time with the team. The Blue Jackets have
won just eight games in regulation since November 24
... of 2010.
His replacement for the time being, Richards, was the head coach in Minnesota during the 2009-10 and 2010-11 seasons and put together a 77-71-16 record. He was replaced this offseason by Mike Yeo.
Here is Howson talking to the media about the decision.
More on the NHL's coaching carousel
Photo: Getty ImagesFor more hockey news, rumors and analysis, follow @EyeOnHockey and @agretz on Twitter.