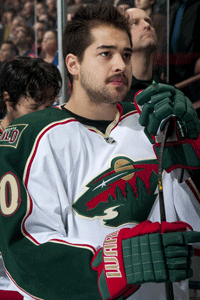 The Minnesota Wild and San Jose Sharks built up quite a relationship this offseason. They made a couple of trades, big ones too. In separate deals the Wild acquired both Dany Heatley and Devin Setoguchi from the Sharks while giving up Martin Havlat and Brent Burns.
Tuesday was the first time that the former Wild players had the chance to go back to Minnesota for a game, a chance to show the fine folks of St. Paul how the trades have worked out for both sides. Only problem was Setoguchi wasn't playing for the Wild, and not because of injury but instead he was a healthy scratch.
Why would the struggling Wild willingly put Setoguchi in the press box for a night, particularly against his former team? Michael Russo at the Minneapolis Star Tribune has an idea:
On a night when the Wild was already without second-liners Pierre-Marc Bouchard and Guillaume Latendresse, Yeo made the gutsy decision to scratch Devin Setoguchi for what he called a violation of a team rule. Multiple sources tell me Setoguchi missed a team meeting this morning the night after going out with a bunch of his Shark buds.
Cavorting with the enemy before the game and missing the team meeting (presumably) as a result? I think most would agree that's grounds for something.
Personally, though, I'm surprised this doesn't happen more often. Any time you hear players who are retiring or who recently retired, what do they always talk about missing? Not the game itself, but the guys they played with, being on a team. Of course a lot of these guys develop great friendships, they spend so much time together and pour their hearts into a common goal.
Maybe I'm not old school enough (or is it a case of being too old school?) but I don't have much of a problem at all with Setoguchi hanging out with his former teammates when they visit town. I like my athletes to be real, not be made from the steel, as one of my favorites Ilya Bryzgalov would say. I hate when players are held to this higher, robotic standard in the guise of professionalism.
As long as he isn't giving away secrets of the Church of Yeo or doing anything stupid to put himself in trouble, it doesn't bother me much. Key word being much. I can live with that.
Obviously where he runs afoul of the rules in anybody's book is missing the team meeting. Setoguchi wasn't the first nor will he be the last to be scratched for that. Remember Bruins forward Tyler Seguin and his really bad excuse for missing a meeting in Winnipeg because his clock was still on Boston time (do the time zone conversion to see why it's bad)? That earned him a scratch.
That's what got Setoguchi a seat in the press box here, too. You can't miss team meetings.
The good news for him is that coach Mike Yeo says the slate starts clean on Wednesday.
I'll put it to you: Is hanging with the enemies before a game an absolute no-go?
Photo: Getty Images
For more hockey news, rumors and analysis, follow @EyeOnHockey and @BrianStubitsNHL on Twitter.