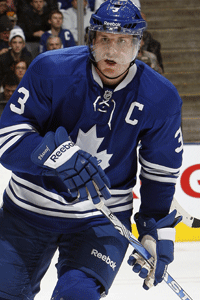 It's always fun when players are asked who is the most overrated player in their sport. It often shows a divide on how players are perceived within the game vs. outside from the media and fans.
With that in mind, here are the results of Sports Illustrated's poll of 161 players asking them who the most overrated player in the league is.
Taking the cake? Vote-in All-Star defenseman Dion Phaneuf of the Toronto Maple Leafs. Although if Phaneuf gets wind of anybody who said it, they can expect one of his completely not overrated checks.
Second in the lineup is Alex Ovechkin from the Capitals. Considering the season-plus he has had, that's easy to see.
There are a couple of things that stick out to me. Players obviously are very aware of how much players are being paid and their corresponding production. Why else would Scott Gomez make No. 3 on this list? I think he fell off the rating radar more than a year ago for the fans/media side. He has become an afterthought for most people, that's how bad he has been. Same goes for Vincent Lecavalier, just to a much lesser extent than Gomez.
The other observation I made is that the list has a high number of Canadian-based players. Eight of the 15 on the list play for one of Canada's seven teams. The Calgary Flames, for example, have three players on the list. That leads me to wondering how Jarome Iginla could crack this list, but I digress.
A name I thought I'd see on here that's absent? Flyers goalie Ilya Bryzgalov.
Who's your pick for the most overrated?
Photo: Getty Images
For more hockey news, rumors and analysis, follow @EyeOnHockey and @BrianStubitsNHL on Twitter.