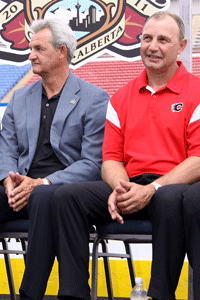 One of the many things I love about hockey is that it doesn't revolve around the coaches, they are hardly ever the stories. You can't say the same about other sports, particularly college athletics where the coach is sometimes the only constant there is. In the NHL, a lot of coaches are so quiet I'm not even sure half of the hockey fans out there could name all 30 bench bosses.
But this weekend in Calgary? It's about the coaches. Well it's now partly about a certain player's Flames debut too, but first to the coaches.
The Los Angeles Kings will be traveling to the Saddledome for a slightly awkward reunion. It's the first time that Darryl Sutter has been involved in a game in Calgary since he resigned -- all but forced -- as general manager for the Flames a little more than a year ago, leaving his younger brother Brent behind to continue to coach the Flames.
For those who suggest you shouldn't mix business with family, this is a good example why. During the time they were together working with the Flames, they had some problems with each other to the point that they stopped talking after Darryl was ousted. Imagine that, two brothers getting to the point of not talking based largely on their working relationship.
They were giving each other the silent treatment until Darryl reached out this week and at least reopened the lines of communications. Probably a good idea on many fronts, particularly about the one of avoiding the awkward moment at the game.
"We had a good chit-chat -- it was good," said Brent, whose brother initiated the call, to the Calgary Sun.
"We talked about their team, about our team ... never once did we talk about anything personally. We talked about the kids. We were all over the map with it. That was the first time I talked to him. It was nice."
Saturday won't just be the first time these two have been back together at a Flames game since Darryl left, but now it's also about the first time that Mike Cammalleri returns to the Saddledome in a Flames jersey since he left. That's thanks to the Thursday night trade of Cammy to Calgary in exchange for Rene Bourque going to Montreal.
The Flames could use the fire under their behind that perhaps current GM Jay Feaster is trying to send. His team hasn't been playing particularly well and a jolt to the roster might help recharge their playoff push. They aren't dead and buries in that race, especially considering the season is only half over, but they could use a run to help set them up for the finish.
At the least they got a player who's excited to be in Calgary -- again, in the case of Cammalleri.
"I am extremely excited, I was told I was traded and I wasn't sure where. I hoped it was Calgary," he said on Thursday after the trade.
"It's a place that I have such fond memories, I really have strong relationships with some of the players. I really appreciated playing there."
So that will bear watching, no doubt. But it's going to be tough to overcome the drama of the bench bosses.
And I just love it when things come together like this. It means absolutely nothing and has no bearing on anything that will happen on the ice, just little coincidences that are fun to mark. Darryl coached 210 games for the Flames. On Saturday night Brent will coach his, you guessed it, 210th game with the Flames. Not that that will steer the spotlight away from Darryl vs. Brent and the Sutter family equation.
"We've now had communication since then, and it has been good," Brent said.
"Any way you want to look at it, we're still brothers. I care deeply about what happens with him and how he does."
Well the family feud will live on for 60 more minutes on Saturday.
Oh, Ottawa
I still haven't decided if the Ottawa Senators are as good as they have shown, but it's getting really tough to deny them based on a small sample size.
Now they have played at least two more games than every other team in the East except for Carolina, but that excuse isn't flying any more either. They are comfortably in the top eight in the East as it stands right now, right on the heels of the Flyers for the fourth seed. When you start beating the Rangers at Madison Square Garden with a shutout no less, then yea, it might be time to believe.
But we're going to find out a lot in the upcoming weeks, starting Saturday. OK, it actually started on Tuesday in Pittsburgh. That was when the Senators played their first of nine road games in a 10-game span. The only interruption in that road show comes on Monday with the Jets coming to Ottawa. After that, they go into their weekend as host for the All-Star Game with a trip that takes them out West.
But they can't play those before the play this weekend's game against the Canadiens first. They seem to be getting Montreal at the perfect time. They have all sorts of struggles and strife to deal with at the moment and could possibly be without P.K. Subban after his hit on David Krejci on Thursday night.
If the Sens can do what most everybody else is doing right now and beat the Habs, they will finish with six points in the three-game road trip.
It sure makes those four All-Star selections a lot easier to swallow, too.
Taking a Flyer
In all honesty, this isn't the best slate of games the NHL has seen this year for the weekend. There aren't a whole lot of really intriguing matchups pitting two elite teams.
But one of the better ones will be in Nashville, a cross-conference battle to boot. The Philadelphia Flyers will take on the Predators in Smashville. Adding a little more intrigue to the good matchup? The in-person scouting that the Flyers might or might not be doing on the opposition.
You are going to hear a lot about the status of Ryan Suter in the coming weeks, his name will surely be at the fore of all the trade speculation unless he signs a contract extension before then. Among the top contenders for his services will be the Flyers, already mentioned in the speculation.
That just adds a little underlying story to what should be a very good game.
Speaking of good games ...
The Blackhawks and Red Wings clash again. They went a long time this season without renewing acquaintances, but now they are meeting seemingly every week.
The next round in their Central Division battle comes on Saturday at the ripe ol' hour of 12:30 from the Joe in St. Louis. I wonder if the Blackhawks will even be functioning at that hour.
Joking aside, hopefully the start time doesn't take away from the quality of games these two put on. The first two meetings this season came in Chicago and each was a 3-2 game (Blackhawks won the first, Wings the second in OT). You can always count on great hockey when these two get together.
Now that realignment has been halted, hopefully the next proposal doesn't split these teams up.
Pesky Stars
That's the nickname that has caught on in Dallas regarding their Stars. Pesky. I guess it's because they won't go away.
Dallas isn't as big of a surprise as a couple of other teams this season, including the above-mentioned Senators, but that doesn't mean they aren't a surprise. Here it is mid-January and they continue to hang around in the Pacific Division race as well as the Western Conference.
They will look to continue their pesky ways against the Colorado Avalanche this weekend. The Avs are as up and down as any team in the league this season. There seems to be no happy medium with them. After their most recent run they are no slipping back down the slope, going into Dallas with a three-game losing streak.
It's a battle of a pair of mild surprises in the West. These all count when it comes down to season's end and each of these hopefuls is trying to sneak into the postseason. The schneid list is getting long.
We're going streaking!
Here are the hot and cold streaks going into the weekend's action.
Senators: Talked about above, they have won three straight and only visit Montreal.
Toronto Maple Leafs: How 'bout them Leafs, huh? They take a four-game win streak into Buffalo on Friday night and if it holds will take a five-gamer into Saturday night's home game against the Rangers.
Predators: Three games and counting heading into the Philly matchup.
Flames: Lost in all the other talk surrounding Calgary, they have actually rattled off three straight wins since returning home from an unfruitful road trip.
Pittsburgh Penguins: The Pens are entering unchartered territory here. They bring a six-game losing streak with them to Florida for the Sunshine State saunter, at the Panthers on Friday, Lightning on Sunday.
Buffalo Sabres: While the Leafs have won four in a row going into Friday's game, the Sabres have lost three straight. They also visit the Islanders on Saturday.
Tampa Bay Lightning: The postseason run followup isn't going as planned. Five straight losses going into Friday at the Capitals, Sunday vs. the Penguins.
Avalanche: How long will this skid go? Right now it's at three games.
Edmonton Oilers: My how long ago that season start seems. They have fallen 23 points behind the Canucks in the Northwest and have lost four in a row. Their one chance to snap that comes against the Kings on Sunday night.
Photo: Getty Images
For more hockey news, rumors and analysis, follow @EyeOnHockey and @BrianStubitsNHL on Twitter.