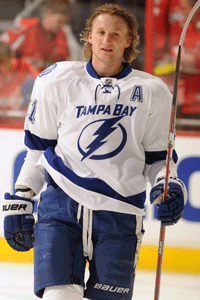 WASHINGTON -- In case you have forgotten, Steven Stamkos is still good. Really, really good.
You don't hear a whole lot about him these days because the Tampa Bay Lightning aren't setting the league on fire again this season. In fact, they're the only ones getting torched. Last season they were battling for the top seed in the Eastern Conference, this season they currently had the last spot thanks to what is currently a seven-game losing streak.
In one of his Pucks & Numbers segments earlier this season, my colleague Adam Gretz broke down the Lightning's struggles this year and while everybody wants to point the finger at the defense and goaltending (it's way subpar, so that's fair) neither was good last season either. The difference is the scoring is down.
Maybe this helps to put it in perspective. Now Stamkos is the best scorer going in the NHL right now, but his 30 goals represent nearly 1/4 of the Lightning's 121-goal total. That's not a whole lot of help. Here we are in January and only three players have double-digit goals for Tampa Bay and one of them, Martin St. Louis, barely qualifies with 10.
To put it another way, he is being asked to carry a massive amount of the Lightning's offensive load. For somebody who is still shy of his 22nd birthday, that's asking a lot. But that's not a workload that Stamkos isn't willing to bear.
"I always put pressure on myself as an offensive guy," Stamkos told CBSSports.com "If you ask Vinny [Vincent Lecavalier] or Marty [St. Louis], they feel the same way. Guys expect us to produce, we expect the penalty kill guys to do well on the penalty kill, our goalies to stop the puck and our defensemen to shut the other team down. Everybody has a role and for me, I want to produce and help our team win. I probably put the most pressure on myself to do that."
He's doing his part more than admirably. As mentioned, he leads the league with 30 goals (clear of the pack by six goals, mind you). He was a no-brainer to be the Lightning's All-Star selection this season. Frankly, there were not any exciting options after Stamkos anyway.
He has been the lone beacon of light in an otherwise dark Lightning season. Expectations were raised significantly after last season when the Bolts were one game away from returning to the Stanley Cup Final, taking the Boston Bruins to the limit in a Game 7. Those haven't been met, to put it mildly.
"It's frustrating right now," Stamkos said. "We don't doubt anybody's character in this room and their desire to win. There's been too many of those this year where we deserved to win and we didn't."
His team St. Louis echoed those sentiments from his stall right next to Stamkos'.
"We've lost six in a row. It's normal to feel the way we do," St. Louis said. "But you got to get ready for the next game, you know? You have to get ready for the next game, you can't feel sorry for yourself. There's still 40, 39 or whatever games left. A lot can happen. If you just give in right now it's going to be a long year."
Their head coach, Guy Boucher, was not long ago seen as the best young coach in the league after his rookie season last year. Funny how perceptions change when the breaks don't go your way.
"There's years where everything works and there are years where things don't work out," said Boucher, the longest-tenured coach in the Southeast at a year and a half. "You see where you are when things don't work out so much. I think circumstances have been tough for us but players have been dealing with it with a lot of class and they've been very resilient. Never quit, we always come back.
"What's tough is that we're just not getting the breaks. It's been like that for a long time, that's the story of our season. We've got injuries and more injuries, adversity and adversity and the breaks just are not coming at all."
The frustration in the locker room is palpable. It's been evident on the ice too. In Sunday's 6-3 loss to the Pittsburgh Penguins, some of it boiled over for Lecavalier, who was given a misconduct after throwing a punch to Evgeni Malkin's face in a scrum for what Lecavalier felt was a shot at his knees.
In Friday's 4-3 loss to the Capitals, the frustration even showed for Stamkos, normally a pretty reserved guy on the ice. He took exception to a hit from Troy Brouwer on St. Louis that sent the Lightning captain into the boards. It only drew a two-minute minor for interference, but it drew more ire from Stamkos, who came flying in to smash Brouwer into the boards and then start throwing haymakers.
I admit I had to double-check to see it was No. 91 (Stamkos) instead of No. 9 Steve Downie, a guy who isn't a stranger to mixing it up, his fight earlier in the game with Karl Alzner a testament to that. But it was Stammer alright.
"Stick up for your teammates; that's the way I was brought up," Stamkos said. "Everyone on this team, it's a team mentality. Everyone would probably do that for Marty as well."
"Marty's his buddy, Marty's the guy that groomed him," Boucher said. "Anybody who sees Marty get something like that is going to jump in ... I'm proud of him. We stick together. It's like marriage. They ask you through thick and thin, the answer is always yes. But when the tough comes how do you react? We stick together, that's how it is through adversity."
And through that adversity Stamkos has only gotten better. He's on pace to break his own career high of 51 goals but is below his career-best 91-point pace with only 20 assists so far. But he can't assist on his own goals, to state the obvious.
Here's a sign of how much Stamkos is growing as a scorer. His power play goals are way down this season, obviously meaning that he's doing a lot more scoring at even strength. Last season he scored 17 on the man advantage, 24 two seasons ago -- almost half of his season total. But this season's power play goals represent only 1/6 of his scores thus far.
You could look at that the other way and point to his power play numbers being down, but this is a team that has struggled to get the power play right for a while. That tends to happen when you are missing some of your top defensemen. Sagging power play numbers could get to some players and leave them lagging in the confidence department.
But not Stamkos, who is only getting better, even if there's little publicity about it.
"You just try to get better as a player each and every year," Stamkos said. "You try to be more of a complete player each and every year. It's my fourth year now. I've learned a lot in this league. I got the opportunity to go far in the playoffs last year and I figured what hockey is all about. It's made me a better player. I just want to stay consistent and help this team win.
"It's not fun right now the position we're in, but I'm just doing everything I can to improve and help our team win."
He might not be having much fun, but he is getting more fun to watch by the year.
Photo: Getty Images
For more hockey news, rumors and analysis, follow @EyeOnHockey and @BrianStubitsNHL on Twitter.