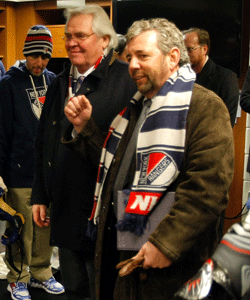 The New York Rangers have had the look of a bonafide Stanley Cup contender all season and their owner James Dolan isn't afraid to say it.
Dolan, who also owns the New York Knicks, hasn't had much success to speak of with either of the teams he runs. So maybe you can forgive him if he is a little overzealous about the Rangers being the top team in the NHL standings thus far highlighted by a Winter Classic win over the Flyers and his team being featured on HBO's 24/7. It's been a good couple of months.
So good in fact that he's got his eyes on the prize for his franchise. Here's what he had to say about the season recently, via the New York Post:
"I'm very proud of the organization. I'm particularly proud of Mr. Sather," Dolan said of the Rangers general manager following the victory that lifted the team to an NHL-best 29-11-4. "Because all the way back to 2004 when things weren't going so well and we had a lot of free agents in here and we made the decision to basically redo the strategy, Glen and I actually had a pact. I actually gave him something that I won't reveal what it is.

"I said, 'You can't give it back to me until we win the Stanley Cup.' And I think I'm getting pretty close to getting that thing back.

"Of course, great coaching, but to me it's all about the farm system, the scouting system, the development and going with the kids and sticking with that philosophy even when, at times, it didn't look so good," added Dolan, who has been willing to spend big to add free agents Marian Gaborik and Brad Richards.
What does John Tortorella think of his team's owner getting so confident? What do you think Torts is going to say?
"We've got to go about our business," Tortorella said after Dolan relinquished the floor. "I've got an owner up here talking about a Stanley Cup. That's a bunch of BS.

"We've got to take it one day at a time."
Therein lies why I love Tortorella the talker. He doesn't have the best filter in the world, which makes for great sound bites. But then he remembered his coach speak and spat out the obligatory cliché of one day at a time.
In my mind's eye I imagine Tortorella than exiting stage left by kicking the door like President Obama in those YouTube videos.
I get where Tortorella is coming from on this. No. 1 he obviously doesn't want his players getting comfortable and happy with what they have done far. No. 2, the Rangers have been relatively under the radar (considering their home city, HBO appearance and record) and Torts likely enjoys that. His team for the most part is pretty quiet.
With all that said, of course Torts would love to help Dolan get that trinket back, whatever it might be.
Photo: Getty Images
For more hockey news, rumors and analysis, follow @EyeOnHockey and @BrianStubitsNHL on Twitter.