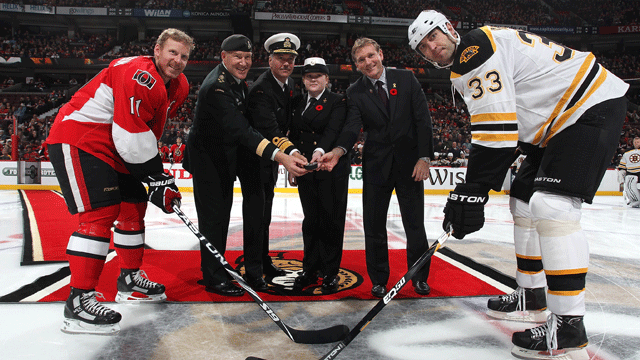 We're another step closer toward determining the All-Star lineups as the captains were announced for the game to be played later this month in Ottawa. Remember, they will be in charge of actually selecting the teams like a schoolyard kickball match, something the NHL first tried last season.
One of them was the lock of the century in Daniel Alfredsson. The longtime Senators captain will be the boss for one of the two teams and will have the task of being his own GM -- minus salary cap constraints, of course.
The other spot was a battle that likely came down to three names: Dion Phaneuf, Jarome Iginla and Zdeno Chara. It was eventually Chara who got the honor, a really good choice. First of all, he was a member of the Stanley Cup champion Boston Bruins a season ago and won the Norris Trophy for his efforts. Secondly, he was an Ottawa Senator once upon a time. So that Project Mayhem won out a little in the end after all.
"It's gonna be interesting. It's another honor on top of being selected as an All-Star. I found out this morning, so I'm a little bit surprised," Chara said on Wednesday (via CSN New England). "I'm going to at least try to see how it is to be in the position that some GMs are in, or people that are making those decisions. In a group of players that are being selected I don't think you can make a wrong choice.
"I'm not going to do too much research, but I'm going to do the best job I can to build the best possible team."
The possibilities abound. The biggest question mark that we'll have to watch for in the draft is Chara and Phil Kessel or Chara and the Canucks. First with Kessel, the two didn't seem to have the best relationship while they were together with the Bruins, but Chara doesn't think that will matter when it comes to draft (again from CSN).
"I don't know. We'll see how it goes. Somebody has to go last," said Chara with a smile on his face. "I don't know if they'll have a car for him or something else ... we'll see how it goes."
I would say with the season Kessel is having, the other team will take that problem off Chara's hands and select Kessel, but remember, we're talking about a member of the Maple Leafs here. The Battle of Ontario is picking up some steam again and Alfredsson might not be all that crazy about having a member of the Leafs on his team either.
Could another Mr. Irrelevant car be coming Kessel's way? I'll still say no.
I don't know about you, but this draft might have become my favorite part of the All-Star Weekend last year. It's fun and a good chance to see the players interacting. It's certainly better than the game itself (other than Cam Ward on the goalie mic, that was entertaining).
Previously at Eye On Hockey
Dissecting All-Star selections; predictions
Photo: Getty Images
For more hockey news, rumors and analysis, follow @EyeOnHockey and @BrianStubitsNHL on Twitter.