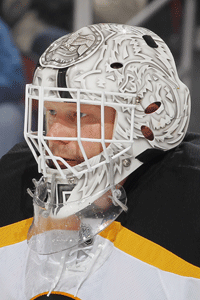 Thomas elected not to visit the White House with teammates (Getty Images)
WASHINGTON -- The Boston Bruins were at the White House on Monday to meet President Barack Obama. Well, almost all of them.
There was one very notable absence as the Bruins were honored in the East Room of the White House. Nobody could seem to find Tim Thomas among the crowd of players in the background. Soon enough, word got out that he elected to skip the event.
"He chose not to come. The reasons behind it I think he'll make the media aware through his Facebook," Bruins general manager Peter Chiarelli said after the ceremony.
Sure enough, the reasons were made clear. Here is the message Thomas posted a little after 6 ET on his Facebook page.
I believe the Federal government has grown out of control, threatening the Rights, Liberties, and Property of the People.

This is being done at the Executive, Legislative, and Judicial level. This is in direct opposition to the Constitution and the Founding Fathers vision for the Federal government.

Because I believe this, today I exercised my right as a Free Citizen, and did not visit the White House. This was not about politics or party, as in my opinion both parties are responsible for the situation we are in as a country. This was about a choice I had to make as an INDIVIDUAL.

This is the only public statement I will be making on this topic. TT
There was a lot of anger across the hockey world on Monday because of Thomas' decision not to show up. I don't understand it one bit.
Let me say that I, myself, would never turn down an opportunity to be honored by the President of the United States, no matter how much I dislike him. It's about the office, the individual.
With that said, I have zero problem with Thomas passing on it. None at all. He has his beliefs and convictions and has every right to stand up for them. To the people who are complaining that he is being selfish and taking away from the team's spotlight, I say mission: accomplished. Look how much attention he is getting because of this and thus getting his political views shared with everybody.
"Everybody has their own opinions and political beliefs. He chose not to join us," team president Cam Neely told the media after the ceremony. "We certainly would have liked to have him come and join us but that's his choice. All the guys came except for Tim. It's his decision and his choice."
Neely would later release another statement on the matter, this time a little more officially than his after-ceremony comments to the media.
"As an organization we were honored by President Obama's invitation to the White House. It was a great day and a perfect way to cap our team's achievement from last season. It was a day that none of us will soon forget. We are disappointed that Tim chose not to join us, and his views certainly do not reflect those of the Jacobs family or the Bruins organization. This will be the last public comment from the Bruins organization on this subject."
Nobody should be upset about this, it's just not a big deal. He declined to go, so be it. What's the big deal?
My only issue with it is that it added a more newsy element to an otherwise light-hearted day for the Bruins. Well that and the mixing of hockey and politics. That's never a good idea.
There are so many mixed feelings on all of this, and I'm not talking about the politics themselves. Of course people won't agree on that. But sometimes you have athletes who are chided for not caring enough, not using their positions of power to make an impact. Then when players do just that, they get ripped for sharing their political views; why do we care what a goaltender thinks about big government?
I say anything that leads to discussion can't hurt. And after seeing some of the players and team officials after the ceremony, I don't think it detracted much from their experiences either. Really, this is a case of no harm, no foul for me. The man had a choice to make and he made it.
More from Eye on Hockey
Bruins honored at the White House
For more hockey news, rumors and analysis, follow @EyeOnHockey and @BrianStubitsNHL on Twitter.