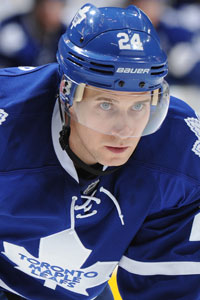 Liles averages 21:32 of ice time this season. (Getty Images)
The Toronto Maple Leafs went out and acquired John-Michael Liles from the Colorado Avalanche last summer in an attempt to further bolster their blue line. So it makes sense that a half a season later they are signing him to a four-year contract extension.
Yes, the Leafs locked in Liles until he's 35 years old with a new deal just as the NHL hits the All-Star break. His current contract, which runs out after this season, has him making $4.2 million per season. His new contract will pay an average salary of $3.875 million according to TSN's Bob McKenzie.
"Not gonna lie...it's been a pretty good day," Liles tweeted while wishing his All-Star teammates the best this weekend in Ottawa.
Liles taking a deal that pays him less than what he's currently making is interesting. To me it shows how much players can value the security of a long-term deal, in this case four more years of remaining in Toronto.
Interestingly, Liles has been out of the lineup since a Dec. 22 game against the Buffalo Sabres. Like so many other players in the NHL these days, post-concussion symptoms have kept him off the ice.
But before the setback, Liles was giving the Leafs solid production on the back end with four goals and 17 assists in 34 games.
With Liles locked in for a few more years, it gives the Maple Leafs a little bit of a logjam at defense -- although not a terribly big one. But it could possibly make one of the defensemen expendable if GM Brian Burke wants to execute one of his patented trades.
Do you like the deal for Liles?
For more hockey news, rumors and analysis, follow @EyeOnHockey and @BrianStubitsNHL on Twitter.