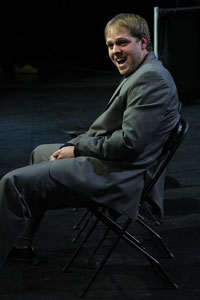 Kessel was the last one left last year. (Getty Images)
I only speak for myself -- obviously -- but the draft has already become my favorite part about the All-Star weekend. It's entertaining, fun and even has some suspense. The game itself that finishes the weekend might not have any of those three features working for it.
Last year's inaugural draft in Carolina was clearly a success, that's why it's coming back this year. It's just like sitting at home plate waiting for the kickball on the mound to call your name in elementary school recess. Who doesn't look back at those days fondly (don't answer that)?
Unfortunately, some of the suspense of the event is taken away though as there are some predictable elements to the draft. You already know that captains will stick to their real-life teammates. For example, Daniel Alfredsson has already made it very clear that his first pick will no doubt be his defensive teammate with the Senators, Erik Karlsson.
The draft will take part on Thursday night at 8 ET on NBC Sports Network (here's a guide to the whole weekend courtesy of Puck the Media). It was moved up one day this year to take place on Thursday instead of Friday. Don't forget that.
With all that said, here's a guide of what to look for in the draft.
Sens will go fast: This one is a guarantee. One of them is a captain. Another one will go to Team Alfredsson likely on his first pick. The others (Jason Spezza and Milan Michalek) could very well be headed to Team Alfredsson early too. It's the hometown team with a hometown captain, he's not going to let those guys sit in the pool for very long.
Same goes for the Bruins: I'm going to take a stab in the dark here and say Tim Thomas will be the first goaltender picked, and he'll go to Team Chara. That's especially the case when you consider Team Alfredsson already has a goaltender in assistant captain Henrik Lundqvist. Tyler Seguin isn't going to last long with Chara picking either. You have to take care of your own, you know?
Kessel won't go last: There was a chance when the captains were named that you thought Phil Kessel could possibly fall to the bottom of the draft again and be Mr. Irrelevant even with the solid season he's having. But then Maple Leafs teammate Joffrey Lupul was named the assistant to Zdeno Chara and he'll likely lobby for Chara to forget some old feud and select Kessel for their team.
But one of these guys will: The pool for guys going last is pretty easy to narrow down. It's going to be a forward (rules require goalies and defensemen to go by a certain round) who is the lone representative from his team and is on the lower-profile side. That knocks out big scorers (Steven Stamkos, Corey Perry) and veterans (Jarome Iginla). That leaves five guys (not burgers and fries) to choose from -- placed in my order of least likely to go last to most likely.
John Tavares -- I think he's easiest to cross off seeing that he plays center. He's safe.
Logan Couture -- A couple weeks ago he was my pick when the teams were announced but some later additions make him safe in my mind.
Jason Pominville -- Some think he wasn't even the right Sabres player to pick, instead it should have been Thomas Vanek. Certainly good odds of going last.
Jamie Benn -- The only Stars player, the All-Star Game will actually be his first game in a couple of weeks after an appendectomy. That could actually garner him some sympathy. But he's a quiet guy, so we'll see.
Jordan Eberle -- The Oilers forward was one of the late additions because of injury. He's only 21 and in just his second season. There are ingredients for him to be the last one sitting. But as last year showed with Kessel, that can result in a nice parting package.
For the record, the oddsmakers at Bovada (formerly Bodog) have Scott Hartnell the favorite to go last at 6/1, but I think he's safer than the guys above.
Disinterested players: Of course there will be guys who look like this is one of the worst things they've had to do as a professional hockey player. That's pretty much inevitable. It's a distinct possibility the captains could look that way. Sorry, but Alfie and Chara don't exactly scream exuberance.
Boo birds: The battle of Ontario is regaining steam this season, so no doubt Lupul and Kessel will hear some boo birds (and cheers from those Leafs fans who snuck in). Poor Kessel, guy can't catch a break at this thing.
Sedin twins: Will Henrik Sedin and Daniel Sedin be split up again? Is it possible that Brian Burke was able to keep them together against 29 other teams but the captains can't do it against one other team? This is as good of a chance as any year ... would Chara actually pick a Canucks player?
Hazing: I'm not talking about anything serious here, but remember the things like Alex Ovechkin taking a picture of a lonely Kessel in the seats? Yea, there will be some fun being had among the players. I'm putting money down on Hartnell pulling a prank on somebody in some fashion.
Better yet, it would be better if Hartnell tripped himself after he is picked, like at least one kid does at every graduation ceremony ever hosted. It would add to the legend that is Hartnell Down.
Enjoy the show everyone. It only goes downhill from there this weekend.
More from Eye on Hockey
Full All-Star Game coverage
NHL.com: Full All-Star list
For more hockey news, rumors and analysis, follow @EyeOnHockey and @BrianStubitsNHL on Twitter.