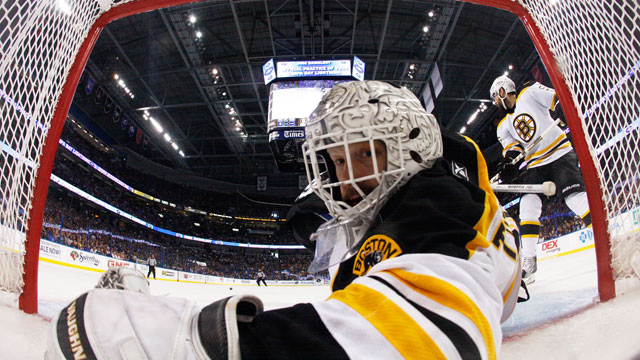 By: Adam Gretz
The
Tim Thomas
White House controversy just won't go away, even though he wishes that it would.
After he refused to attend the
Bruins
visit to the White House earlier in the week, the Conn Smythe winning goaltender has drawn a flood of criticism from media, fans and
even anonymous sources within the Bruins organization
, referring to his decision as "selfish," as the
Boston Globe
reported on Tuesday.
Even though he said his Facebook statement explaining his position would be his only comment on the matter, it's been all anybody wants to talk about anytime he's been in front of a microphone or camera during the All-Star weekend festivities.
During his media availability on Friday, for example, he was asked if he wanted to see this all just go away.
"I think it should. I think it should," said Thomas. "I think it's all media-driven right now. It has been from the start. Everything I said then was as an individual. It wasn't as a representative of the Boston Bruins. All it has to do is with me. It's separate from hockey. That's my personal life. Those are my personal views. Those are my personal beliefs. It has nothing to do with hockey. It has nothing to do with this All-Star Game."
Thomas did not join the Bruins on Monday and said later in the evening that it was his right as an individual to not go,
a decision he made because he feels the Federal government
"has grown out of control, threatening the Rights, Liberties, and Property of the People."
The controversy that followed even led to speculation that maybe this could be the beginning of the end for Thomas' time in Boston, which seems pretty silly to think about. Of course, sooner rather than later Thomas and the Bruins
are
going to part ways, but that has more do with the fact he is 37 years old, only has one year remaining on his contract, and the team already has his replacement,
Tuukka Rask
, on the roster. Not because he skipped out on taking a trip to visit the President.
Thomas will also eventually get his wish, and this story will disappear. Perhaps as soon as the second half of the season starts up and he gets back into the crease and starts winning games again.
That always seems to put a pretty quick stop to a lot of controversies like this.
Photo: Getty Images
Previously at Eye On Hockey
Bruins honored at White House while Thomas declines
Thomas explains decision
Thomas Speculation starts
For more hockey news, rumors and analysis, follow @EyeOnHockey and @agretz on Twitter.