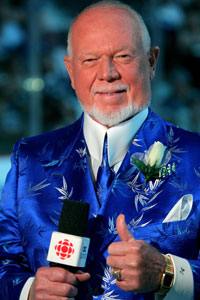 Don Cherry is never shy to share his thoughts. (Getty Images)
One thing you hear most every player, coach and general manager say often is that they don't read the newspapers or listen to sports radio. If they did they might go crazy.
Maybe that explains it for Toronto Maple Leafs GM Brian Burke, because he pretty clearly pays attention to what is said. When the Leafs announced a contract extension for coach Ron Wilson, they seemed to release the news purposely on Christmas to burn the Toronto media. His battles with that group have been pretty well known.
He also appears to have a problem with CBC icon (or eye sore for the fashionistas out there) Don Cherry. Granted, he's not the only one in that department, but still.
"I like Brian Burke. I have nothing against Brian Burke," said Cherry in an exclusive sit-down interview with the Ottawa Sun on Saturday. "But Brian Burke doesn't like me. That's the sad thing. We used to be the best of friends. I used to get St. Patrick's Day cards from him ... no more.
"Brian Burke does not like what I say about the Leafs. But what am I supposed to say about them? They haven't made the playoffs in [seven] years. I say what I mean and I mean what I say. I guess he doesn't like it. But I am what I am."
Sun writer Tim Baines reports in the same story that Burke has become so upset that he has been thinking over taking his gripes about Cherry's critiques to the CBC.
Can you imagine the response that Burke would get if he went through with going to CBC brass? Imagine what Cherry would say in his next edition of Coach's Corner.
The kicker is that Cherry admits to being a Leafs fans behind only his love for the Bruins, the team he played his only NHL game with and coached for five seasons, including two Stanley Cup Final losses. But in case it hasn't been clear for years, Cherry calls things like he sees them.
For more hockey news, rumors and analysis, follow @EyeOnHockey and @BrianStubitsNHL on Twitter.