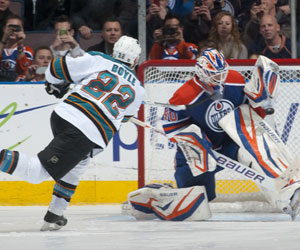 Fans watch closely during a recent shootout in Edmonton. (Getty Images)
If you are like most hockey fans, you hate the shootout. If I were to gather based on reactions every time a game goes into the shootout, I don't know if hate is even a strong enough word.
Well if you haven't reached that point already, you might want to come to terms with it because it's not going anywhere according to NHL commissioner Gary Bettman.
"All the research that we do on a regular basis tells us overwhelmingly our fans like the shootout," Bettman told the Associated Press this weekend in Ottawa. "We're looking at numbers in the 70 and 80 percent approval range, which on any question is an extraordinarily high number. Anecdotally, I try to go to a game at least once in every building, and when you see an overtime game that goes to the shootout, the reaction in the building is sensational. Everybody's on their feet."
As part of the "70 or 80 percent" who approve -- I know, I know -- not even I buy those numbers. But what I can't dispute is the last point that Bettman brings up about everybody coming to their feet for the shootout.
Either Wild coach Mike Yeo is toeing the company line or he enjoys the shootout, something his team is familiar with.
"People want to see somebody win. They want to walk away without an empty feeling like, 'Wow, that was a really good tie tonight'," Yeo said. "You want to win and you don't want to lose, but when you lose it makes the wins that much better. That's what we're here for: to win hockey games."
Anaheim Ducks forward and last year's Hart Trophy winner Corey Perry is on record as saying he has no problem with the shootout either.
"It's exciting, and people want to see that. They want to see one-on-one action," Perry told the AP. "I don't mind it. You've got your best players out there taking shots and trying to win for your team. Guys like that in this game. They want that pressure."
Of course, not everybody is on the same page in the NHL.
"I have mixed feelings about it," Canadiens goaltender Carey Price said. "The shootout is very random, because it's not really involving the whole team. I think that's probably the most difficult thing, so if you have a core group of guys that aren't doing well in the shootout, then there's a lot of blame on certain people. But it is better than having nobody win the game. I think at the end of the day you're trying to sell tickets and being able to give a result to somebody is probably pretty good."
That doesn't mean that the overtime rules will stay just the way they are. I'd expect conversations to continue among the powers that be about possibly going to 3-on-3 in overtime after a few minutes if no goal has been scored, reducing the chances of a shootout, as they experimented with this summer.
Having said I am one of those that does enjoy the shootout and its presence, I'm still in favor of changing the point system. I think a lot of the frustration fans have over the shootout would be taken away if they converted to a 3-2-1-0 point system (three points for a regulation win, two for an OT/shootout win, one for an OT/shootout loss, and nada for a regulation loss).
For more hockey news, rumors and analysis, follow @EyeOnHockey and @BrianStubitsNHL on Twitter.