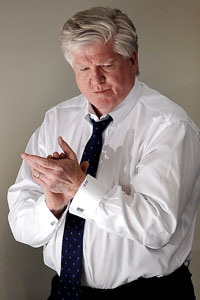 Burke says Cherry and host Ron MacLean have 'vicious and cutting [remarks] on players and coach.' (Getty Images)
We relayed to you a story over the weekend of Don Cherry saying that Maple Leafs GM Brian Burke isn't fond of the things Cherry has said about the Leafs and that Burke was even considering going to the CBC with his complaints.
Consider it done. From the Toronto Sun:
Maple Leafs president Brian Burke has admitted he did complain to the CBC about a Coach's Corner segment in a bid to get them to "stop" the "vicious" criticism of his players and coach.

But, he said, it was not a personal complaint against Ron MacLean and Don Cherry, but was in the interest of protecting his team.

"I don't dislike either of them," Burke told QMI Agency Monday.

During the all-star weekend in Ottawa, Burke wouldn't discuss whether he filed a complaint, saying the mid-season event was "hardly the time or place for a beef like this."

Burke said he feels his confidence was somewhat betrayed.

"This is nuts," said Burke, adding he "raised (the) issue quietly and professionally" and then "they leak it. Nuts."
Nuts sort of describes the whole story, doesn't it?
Burke is an old-school guy, from lamenting the rats running the league to challenging Kevin Lowe to a fight in a barn set in the backwoods. An affront to him or his family (in this case, his team) will be dealt with.
One of the affronts in this case was Cherry referring to Leafs coach Ron Wilson as a Napoleon ype, saying "I don't like him ... I don't like the way he treats the players."
But complaining about a national commentator's opinion of your team and coach? It's so hard for me to figure out when Burke is being professional and when he's being petulant. I mean I guess he could have challenged Cherry to a fight in a barn.
Everybody knows what/who Cherry is anymore, he's loud for the sake of being loud, his job is to entertain while also being a pundit. I don't know of anybody who puts much stock into what Cherry says in his weekly Coach's Corner segments. Except now for Burke.
The whole story underscores something that I find rather impressive: Burke's ability to succeed despite caring so much what others say. Usually, that's not a trait that will help somebody, particularly in a business like hockey in a market such as Toronto.
More from Eye on Hockey
Cherry on Burke's criticism
Burke talks decline of enforcers
Burke nearly fought Lowe in a barn
For more hockey news, rumors and analysis, follow @EyeOnHockey and @BrianStubitsNHL on Twitter.