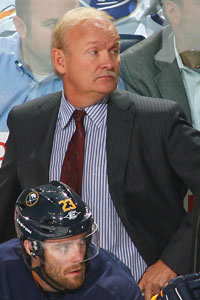 Ruff is the longest-tenured coach in the NHL. (Getty Images)
By: Adam Gretz
Lindy Ruff has definitely seen better days as head coach of the Buffalo
Sabres
.
Currently fighting through a disappointing season that has seen his team fall to the bottom of the Eastern Conference and all but out of the playoff race, the Sabres have been dealing with a combination of injuries, players performing below expectations and their normal level of production and, well, it's pretty much Murphy's Law this year -- everything that can go wrong, is going wrong.
The latest
example came during Monday's practice when
, according to Mike Harrington of the
Buffalo News
, Ruff was injured during what was described as a "scary" collision with defenseman
Jordan Leopold
. The collision reportedly occurred when Leopold lost his balance while taking part in a 1-on-1 drill with forward
Ville Leino
and then fell into Ruff, sending him crashing to the ice.
According to the Sabres, Ruff suffered three broken ribs and is expected to return to practice on Tuesday.
Said Sabres goalie
Ryan Miller
, via the
Buffalo News
, "To see him in that much pain, he probably has something going on there. Hopefully we get that sorted out and he's all right. We need him behind the bench yelling and calling the lines. Lindy being a former player, he knew how to take the fall. He took it into his body instead of letting his head whip back or else it could have been really devastating."
Ruff, of course, is the longest tenured head coach in the NHL, having been behind the Sabres bench since the start of the 1997-98 season, compiling a 548-414-78 record and leading the team to the Stanley Cup Finals in just his second season with the club.
The Sabres host the
Bruins
on Wednesday, and go into the game with a 22-24-6 record.
For more hockey news, rumors and analysis, follow @EyeOnHockey and @agretz on Twitter.