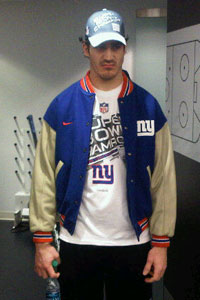 Mass. native Boyle in Giants garb. (Twitpic)
Rangers forward Brian Boyle is from Massachusetts. Despite playing in New York, he's still a New England Patriots fan and proud of it.
So it stung badly enough when the New York Giants beat the Patriots 21-17 in the Super Bowl. That didn't spare him from a bet adding insult to his injury.
If his face sporting Giants gear as the loser of a bet doesn't scream insult, I'm not sure what does. That photo is courtesy of teammate Brandon Prust's Twitter account.
Of course, I'm not going to feel too bad for the guy. It's not like the Patriots fans don't remember what it's like to celebrate a championship.
As a proud non-bandwagon hopper myself, I always admire seeing athletes stay true to their favorite teams they liked growing up. It's nice and all to support the teams in the city you play, but loyalty has its place for me. Although it's a tougher spot to root for your hometown team when they are playing the local team in such a big game.
It seems like it made Boyle pretty salty too when sporting the Giants hat in the locker room after Monday's morning skate. Love the barb he throws Martin Biron's way.
I doubt the New York fans will care too much if Boyle brings them their first Stanley Cup in almost 20 years come Spring.
H/t to Puck Daddy
For more hockey news, rumors and analysis, follow @EyeOnHockey and @BrianStubitsNHL on Twitter.