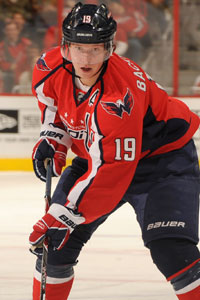 Backstrom hasn't played since Jan. 3. (Getty Images)
The Washington Capitals made a pretty sound statement this week when they smacked down the Florida Panthers, the team they are battling neck-and-neck with in the Southeast Division. It would be a tremendous boost to them if they could get arguably their best player (yes, even compared to Alex Ovechkin) Nicklas Backstrom back to help them out.
That doesn't sound too likely.
Out since early January when he suffered a concussion from a hit from then Calgary Flames forward Rene Bourque, Backstrom recently talked to Gefle Dagblad in his native Sweden about his recovery efforts and it's not promising. Thanks to Capitals blog Japers Rink, here is a translated version of what he had to say.
"I don't know when I will be able to play again, but I hope I will be ready for the playoffs," Backstrom said. "I'm getting better, but it takes time."
Hoping to be ready for the playoffs is not what anybody wants to hear. Even a couple of months down the line isn't certain. Of course we know that timetables are virtually impossible to set with concussions, but you would hope that they were a little more optimistic.
More importantly, there is no guarantee that there will be a playoff season to get ready for. While the conventional wisdom is that the Caps should be fine when it comes to making the postseason, they really are in a dog fight with less than 30 games to go. You'd have to like their odds a lot more if Backstrom were back playing with the team.
Backstrom tried at one point to begin the comeback, but shut things down after three minutes of skating.
"Two weeks ago I tried to get on the ice for a practice, but I got off after three minutes. It didn't work. I just wasn't ready."
As for the hit from Bourque that put Backstrom out and landed Bourque a five-game suspension? Backstrom isn't a fan of it.
"It was an unnecessary hit," he said. "I feel like he could have just skated by me instead."
Before his injury, Backstrom was in the middle of another very good season for the Capitals. He had 13 goals and 29 assists in 38 games. On a team whose offense is down, he was one of the few still making things happen. Not to mention he is that all-important top-line center.
For more hockey news, rumors and analysis, follow @EyeOnHockey and @BrianStubitsNHL on Twitter.