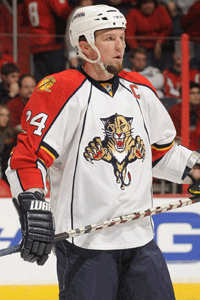 McCabe was drafted by the Isles in the second round in 1993. (Getty Images)
Brian McCabe was one of the free-agent defensemen that wasn't scooped up this summer by a team and never caught on with a team after the season began.
Turns out he wasn't waiting for an offer to return to playing. He's retired.
Back in Florida where he spent two and a half seasons before finishing out last season with the Rangers, McCabe told George Richards of the Miami Herald that's he's finito. Done for good.
"Am I trying to play again? No. I'm done," McCabe said. "I'm down here, retired, have three kids now so that's what I'm doing. That's real work. The offers came in, but I don't want to leave here. We called it a day.

"I knew this day was coming and I'm fine. I'm settled in."
He's already moved on to another phase in his hockey career, telling Richards that he has begun scouting for the Panthers before the trade deadline on Feb. 27.
When it comes to retirement announcements, this is way down the list. Talk about a casual announcement. Not to mention, it won't surprise many people, if any. But still, making the announcement, albeit in a casual manner, brings an end to his career.
It will be interesting to see after this if he comes out and really makes it official, perhaps with the Panthers. Considering how things ended in Toronto with the Maple Leafs -- where he spent seven seasons -- that would make most sense. He's local, spending time with the team and living in nearby Boca Raton.
McCabe played 15 seasons in the NHL scoring 145 goals with 383 assists. He carved out his niche as a quarterback on the power play, scoring 74 of those 145 on the man advantage. Obviously his best seasons were in Toronto before he had a falling out and was traded to the Panthers with a fourth-round draft pick for Mike Van Ryn.
For more hockey news, rumors and analysis, follow @EyeOnHockey and @BrianStubitsNHL on Twitter.