Who says the city of Columbus doesn't have any hockey traditions?
While they don't have much on the ice to talk about, particularly if Rick Nash and Jeff Carter are traded, there is some, umm, entertainment in the crowd. Check out the rage at Nationwide Arena, the not-so tiny dancer named Kevin Schroeder.
Watch the video here at the Columbus Dispatch's website (wish we could embed it for you, the picture below will have to suffice). Just to be safe, might not want to watch in a place you might be embarrassed. It involves a portly fellow with no shirt.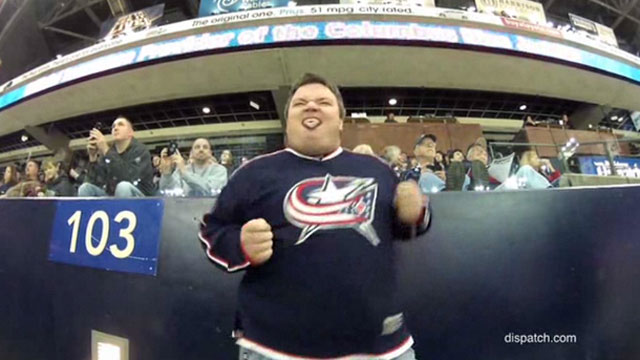 Schroeder dances for the camera at Nationwide Arena. (Screengrab)
Ah yes, the things the crowd cheers for in Columbus these days.
What's the backstory for something like this (not what's written on his back)? There must be one, right? Yes, yes there is. Thankfully.
A Columbus native, Schroeder says it started at a game in 2002 when his girlfriend wanted to get on the jumbotron. "'You really want to get on?' She said 'Yea.' I said 'a fat guy dancing will get you on.'"
The video became a common sighting at games until Schroeder offered to give the Jackets a new look. That above is it.
"It's all my girlfriend's fault," Schroeder said. Thanks girlfriend.
Perhaps the woman who was interviewed in the Dispatch video put it best: "I find him to be very amusing, but sometimes a little grosses you out."
For more hockey news, rumors and analysis, follow @EyeOnHockey and @BrianStubitsNHL on Twitter.