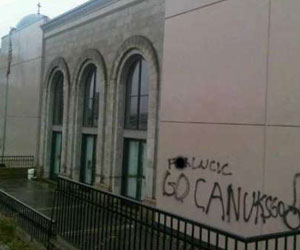 The vandals left this in their wake. (Vancouver Sun)
OK, isn't this Bruins and Canucks rivalry going a little too far now? I mean, it probably crossed that line a while ago but if you didn't think it had, this will probably change your mind.
The above is a photo of Bruins forward Milan Lucic's family church back in Vancouver, his hometown. It was taken by Lucic's girlfriend Brittany Carnegie after some vandals thought it was a good idea to deface it in the name of the Canuks. Sorry, I mean Canucks, got confused after looking at the handiwork of some obviously hardcore fans.
We took some photo editing liberties to tone it down, so in case you were wondering, just by any off chance, what the entire image looked like/said, here's a description from the Vancouver Sun.
On the side of the St. Archangel Michael Serbian Orthodox Church is large, black graffiti that reads "F--k Lucic" and "Go Canuks (sic) Go," along with crudely drawn genitalia.

"This is DISGUSTING!" Carnegie wrote. "Punks did this to Milan beloved church! So disgusted!"
Lucic hasn't been exactly treated kindly by his hometown since the Bruins beat the Canucks in an intense seven-game series. Posters of him have been defaced in the city and a brawl broke out when he showed up at a Greek festival. So yea, he's kind of a big deal there.
I'd admonish the hockey fans of Vancouver here for giving themselves another black eye, but I can't. I just can't call these guys Canucks fans. Isn't it a requisite to spell the team's name right to be called a fan? This had to be the work of the same type of fan who decided it was a good idea to wreck their city after losing the final game.
Speaking of which, the first sentence has been handed down to a rioter and it was for 17 months. Granted, said rioter had a history that greatly contributed to that sentence so it was abnormal, but point is we should start seeing some more soon.
In the meantime, let's leave this rivalry on the ice. That's more than entertaining and heated enough already.
For more hockey news, rumors and analysis, follow @EyeOnHockey and @BrianStubitsNHL on Twitter.