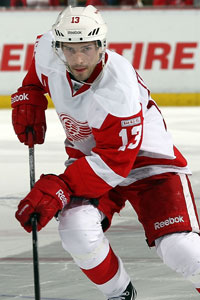 Datsyuk leads Detroit with 59 points (16-43=59). (Getty Images)
The Red Wings were able to withstand the loss of All-Star goaltender Jimmy Howard just fine. But now they'll really be put to the test as superstar forward Pavel Datsyuk is going to miss the next two weeks after having arthroscopic knee surgery.
Datsyuk, who was recently lauded by his fellow players in the NHLPA poll in six different categories, is certainly as critical a component as anybody to the Wings. Some argue that he's the world's best player. The good news, though, is that he's not expected to be out long. The two weeks sounds like a solid time frame after hearing coach Mike Babcock on Tuesday.
"Datsyuk had minor arthroscopic knee surgery this morning," Babcock said before Tuesday's game against Chicago. "Everything is real good."
With that two-week timeframe -- three to be safe -- that brings Datsyuk back in the latter half of March, giving up a couple of weeks to get back up to full speed before the playoffs. So that's why they decided to take care of it now.
"This way we have an opportunity to get [Datsyuk] going 100 percent before playoff time," Babcock said.
That is a luxury Detroit has right now, holding a big enough cushion to withstand the loss of Datsyuk for a little while and still keeping their playoff position. What it might do is open the door for the Vancouver Canucks to overtake them and move into the West's top spot.
The good news for Detroit at least is that Howard will be making his return against the Blackhawks. He has missed the past few weeks with a broken finger but Detroit just kept on winning, taking the last six games without Howard in the lineup.
On the other side of the ice in Chicago tonight the Blackhawks will be missing their top forward as well. The 'Hawks announced Jonathan Toews is going to miss the game too with an upper-body injury. So at least it's an even trade in players being out for the always entertaining Chicago-Detroit battle.
The absences take away a bit of the juice that was shaping up to be about Howard's return.
More from Eye on Hockey
NHLPA poll really likes Datsyuk
Datsyuk dramatically extends Wings' streak

For more hockey news, rumors and analysis, follow @EyeOnHockey and @BrianStubitsNHL on Twitter.