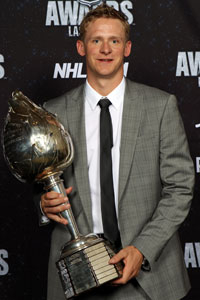 Last year's winner Corey Perry poses with the Hart Trophy. (Getty Images)
Welcome to Award Rankings. For every week the remainder of the season, we will break down two of the awards races at a time and see how they are stacking up as the NHL season hits the home stretch.
The Hart Trophy is the king of trophies, the biggest and best (outside of the Stanley Cup and playoff awards, of course) in the game. It goes to the league's most valuable player.
And here's the thing about it this season: It is going to be one heck of a race to the finish to determine it. The top of the points leaderboards are scrunched. So are the playoff pictures. That means the Hart race is in the same squished mode too.
The difference between a lot of guys right now in the Hart race is like differentiating between a Lamborghini or Ferrari, you really won't go wrong either way. Then you have Mercedes Benzs, Audis and Lexuses in the conversation too. So many great choices, so few winners. Just one, in fact. We aren't Jay Leno here and buying them all.
These rankings are reflective of where they stand now. They are certainly subject to change. For example, Steven Stamkos didn't crack the list here, but if the Lightning actually overcome their five-point hole and grab a playoff spot despite selling seemingly half their team, he'd have to be in consideration without a doubt.
Keep in mind the Hart race is incredibly tight with a ton of contenders at this point. There is an argument to be made for a lot of other players as well as for the order here to be changed. I'm sure you'll make those arguments below. This is just one man's opinion.
The Hart starts with a guy who hasn't won it yet despite some awesome seasons recently. But he was hindered by another spectacularly awesome teammate who hasn't been there much to help this season.
We also look at the Vezina, which isn't anywhere near as tight as the Hart race at the top but the fighting for the finalists is fierce.
Award watch
Hart
Vezina
Evgeni Malkin
The Penguins have had to deal with more injury loss this season than any other team, including two of their top three centers. The third is Malkin. He leads the league in points and is second in goals. He's been the best player in the league. But this race is very tight and has a long way to go.
Henrik Lundqvist
The Rangers are arguably the top team in the league and Lundqvist is a massive reason why. He is tops in the league in save percentage at a whopping .940 and has a goals against of 1.78. He's separated himself from the field ... and the Rangers from the East field as well.
Henrik Lundqvist
Yes, I think he's been good enough to be seriously in this conversation. He's incredibly valuable to the Rangers, that's not a question for anybody. With scoring down so much in the NHL, this is a perfect year for a goaltender to win the Hart again.
Jonathan Quick
He means as much to the Kings as Lundqvist does to the Rangers and I'm not going to penalize a goaltender for his offense's lack of production. His 1.96 goals against and .931 save percentage are very good. He's the only reason Los Angeles is still fighting for a playoff berth.
Claude Giroux
He was asked to carry a lot more of the load in Philadelphia this season and he has. Despite missing a few games with a concussion, the 24-year-old Giroux is set to pass his career highs very soon with 23 goals and 47 assists already despite playing just 55 games. He's had to with Philly's defense.
Jimmy Howard
Despite recently missing three weeks in February with a broken finger, Howard is still second in the league in wins with 32 (one behind Pekka Rinne). He is having a career season with a 2.03 goals against average and .924 save percentage and is a big reason why the Wings have returned to the top of the West.
Radim Vrbata
Why not? He has 30 goals and counting on the season for the Coyotes, a team that otherwise relies on defense. That's 12 more than anybody else on the team. Aside from Ray Whitney, everybody on the team is at least 16 points behind Vrbata. For a team expected to be in the basement, he deserves a lot of credit.
Brian Elliott
The only thing keeping Elliott this far down the list is the fact that he splits almost 50/50 in St. Louis with Jaroslav Halak. But his 1.65 goals against average and .937 save percentage are obscene. However he'll be hurt by Halak's success as well as the Ken Hitchcock argument ... he makes all goalies look good.
Jason Spezza
The assumption before the season was that the Senators were going to be in the running for the best lottery position, not the Northeast Division crown with the Bruins. But here they are and Spezza's 27 goals and 39 assists are a massive reason why. So is Erik Karlsson, but he'll show up elsewhere.
Tim Thomas
Last year's runaway with the Vezina, Thomas isn't having the season he did a year ago. But in his defense, nobody ever had before him either. He's still excellent with his .929 save percentage and 2.21 goals against. For now he barely beats out Mike Smith and Pekka Rinne in this race for me.
And for a quick look at the rest of the races we'll be checking in on every week.
Norris: Erik Karlsson, Shea Weber, Nicklas Lidstrom.
Calder: Adam Henrique, Ryan Nugent-Hopkins, Matt Read.
Jack Adams: Ken Hitchcock, Paul MacLean, John Tortorella.
Selke: Patrice Bergeron, Pavel Datsyuk, Jonathan Toews
Top GM: Dale Tallon, Glen Sather, Don Maloney.
For more hockey news, rumors and analysis, follow @EyeOnHockey and @BrianStubitsNHL on Twitter.