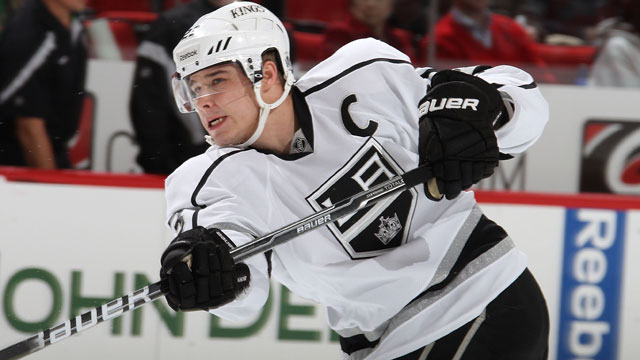 Brown has 15 goals and 17 assists on the season for L.A. (Getty Images)
Almost as soon as the Los Angeles Kings snagged Jeff Carter from the Columbus Blue Jackets for Jack Johnson and a first-round draft pick, the buzz picked up about another Kings trade. This one would actually be the team moving out one of their better scorers. And their captain, no less.
TSN's Bob McKenzie -- whose word is about as good as gold in these matters -- reported late on Thursday night/early Friday morning that the Kings were looking to trade Dustin Brown.




Of course things in the hockey rumor world are never that easy. Several hours after the water cooler talk heated up around Brown being available, CBC's Elliotte Friedman reports that Brown is off the trading block.




So, it might be easier to list the teams who aren't interested in Brown. Here, I'll put my insider use to work and take care of that right here. These are the teams who don't want Brown: ........ (*crickets) .....
Who wouldn't want Brown, anyway? He has one of the most team-friendly contracts in the entire NHL. He is signed through this season and the next two for a cap hit of $3.175 million per season. For a guy who is a captain and who, until this season, had consistently been in the mid-to-high 20s in goals throughout his career with a high of 33 in 2007-08? Sign me up.
NHL Trade Deadline
More NHL coverage
It does beg the question, then, of why would the Kings want to get rid of him? If everybody else would like him, that should be a sign you have somebody worth keeping around.
Well there are a couple of theories. McKenzie hypothesizes that the Kings do like Brown as a player but he leaves something to be desired as a captain and that Mike Richards is going to assume that role. Seems to me it would be a lot easier to just take away the C, but hey. Another thought is that he could be shipped to get draft picks back after the Kings have unloaded a few.
This much is certain: The trade market just got a whole lot more interesting. I'm not going to say that Brown has the same upside that Nash does, but he's a pretty darn good player. And he's less than half the price of Nash. Both guys are having subpar seasons, so they're kind of a wash there.
That's where it adds some skepticism for me. as mentioned, Brown is having a poor season. It would be selling low instead of high and that's not usually a good business strategy. However if they can still get a high return, then I suppose it doesn't much matter. Everybody on the team is having a down year, that has to be taken into consideration by everybody.
Blue Jackets GM Scott Howson can't like this. All of a sudden there has become a much cheaper alternative to his highly coveted forward. That's not going to help the asking price remain high.
If there is serious traction to this Brown talk, then that only decreases the chances that Nash is traded in the next couple of days, I'd say. Teams will focus on Brown first would be my guess and then once that card is played it will be too late and the Nash sweepstakes will have to reopen in the summer. I already thought the chances for Nash actually being dealt this month weren't great and this doesn't do much to help.
And this, by the way, is obligatory. Any post with Brown must include the following video. From what I've been told, that's a blogger's requirement.
More from Eye on Hockey
Kings acquire Carter from Columbus
How L.A. reunited Carter and Richards

For more hockey news, rumors and analysis, follow @EyeOnHockey and @BrianStubitsNHL on Twitter.