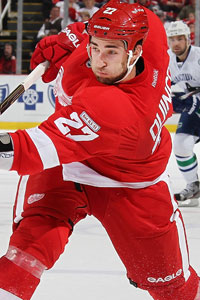 Quincey had five goals and 18 assists with the Avs this season. (Getty Images)
Kyle Quincey caused some ripples back in Colorado after the Avalanche traded him to the Tampa Bay Lightning, who then quickly flipped Quincey to the Detroit Red Wings. He talked to Yahoo!'s Nick Cotsonika about life on the trading block and moving on from the Avs.
They came off a bit rough.
"Everyone is ready to get shipped out any day," Quincey said. "There's a lot of guys, their bags are packed beside the door, and they wouldn't be unhappy to go -- trust me. I know I had a big smile on my face, and all the guys were jealous. I think there's a bunch of guys that were pissed off they weren't in a package deal.

"I truly believe, if you have confidence in a player, then give it to them, show it to them," Quincey said. "When there's so much uncertainty if those guys are going to be there next year, it would be nice for guys to get extensions. But that's their policy, and that's what they do."
Consider the feathers ruffled. But it didn't take Quincey long to backtrack and apologize for his comments, playing the "out of context" card.
"That was taken out of context and I didn't mean any of that. And the stuff that I said about guys having their bags packed was bad ... but it wasn't all in Colorado, it was the whole league," Quincey said. "Everyone until Monday at 3 [p.m.] is pretty anxious, not just in Colorado.

"I don't want to put any of my former teammates in hot soup. I regret saying the stuff that I did, but it wasn't towards them. Colorado is an unbelievable place to play, I had a great time there, I love it there, I bought a house there, and that's my home now, so the last thing I want to do is get them upset with me."
I'm not going to skewer the guy here. He was probably a bit excited to get traded from a team fighting for its playoff life to a team that's fighting for a Stanley Cup.
I wouldn't doubt the sincerity of his apology. NHL locker rooms are tight, they spend so much time together and develop strong relationships. No doubt Quincey has some very good friends in that Colorado locker room and that doesn't just disappear the moment he's traded.
I only hope that something like this doesn't make Quincey clam up and become as robotic as most athletes when it comes to quotes and spit cliché after cliché.
By the way, the Avalanche visit Quincey and the Wings on Saturday night. He can mend a few more bridges then if there are any left to be mended.
More from Eye on Hockey
Quincey goes to Wings in three-team deal
For more hockey news, rumors and analysis, follow @EyeOnHockey and @BrianStubitsNHL on Twitter.