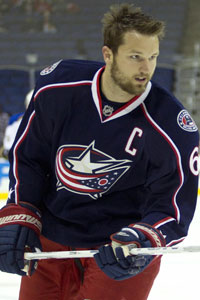 Will Nash have a new jersey on Monday afternoon? (US Presswire)
In the last day or so I went from being not so optimistic that Rick Nash would be traded before Monday's deadline to being at the point of a coin flip. That's what one little statement from an agent can do.
For the first time since the Nash trade talk picked up a few weeks back, his agent Joe Resnick shared his thoughts on the situation. And they put a little pressure on Blue Jackets general manager Scott Howson.
"We're hopeful a deal can get done prior to the trade deadline that is fair and equitable for the Blue Jackets," Resnick told TSN. "However, if a deal is not reached, then the list of acceptable teams will not change at a later date."
So much for the idea of summer opening up the market.
It already seemed like a good idea to get a deal done before the deadline passes for Columbus. You knew once the word spread they were willing to listen to offers his days in Columbus were done. There was just no backtracking from how far things had gone. Especially now. It's to the point where Nash's camp is "hopeful" for a trade before the deadline? Talk about a lame duck if he sticks around.
The question then becomes who backs down for a deal to get done? Scott Howson has maintained his high asking price while teams like the Rangers and Maple Leafs haven't backed off their insistence to not include certain players (see: Michael Del Zotto, Ryan McDonagh and Jake Gardiner).
All the while, the Rangers remain the favorite if Nash is to go in the next 26 hours. Here's the latest from Larry Brooks of the New York Post:
One informed source told The Post that Sather has held firm in his refusal to send 2009 first-rounder Chris Kreider, the Boston College winger who is regarded as a can't-miss prospect, to the Blue Jackets for Nash. Neither will the general manager agree to move young blue-line chips Ryan McDonagh or Michael Del Zotto.

A second source told The Post that Sather has agreed to include 21-year-old defenseman Tim Erixon in the package that would go to Columbus in exchange for Nash, who has indicated a willingness to waive his no-move clause for a deal to a select number of big-market teams.

It is unclear whether Sather is willing include 2012 first-rounder J.T. Miller in the package for Nash that would include Brandon Dubinsky, a future first-rounder, and likely at least another well-regarded prospect.
But there is another team at least trying to enter the conversation. The Nashville Predators are as big of buyers right now as they ever have been. They are trying to prove to their defensive Stars Ryan Suter and Shea Weber that they are committed to winning it all in Nashville so they'll re-sign.
NHL Trade Deadline
More NHL coverage
And they have reportedly put forth a pretty good looking offer for the Jackets to consider. They apparently have a standing offer on the table for the Jackets and Nash and Predators beat writer David Boclair speculates it would likely include Colin Wilson, Ryan Ellis or Jonathon Blum, a first-round pick and maybe a little more.
Keep in mind that Nash has a no-trade clause and at no point have the Predators been rumored to be on that list. If you are to gauge based on the teams that are thought to be on it -- Rangers and Leafs for starters -- Nashville doesn't seem to fit that bill, either. Oh, and the Predators play in the same division as the Blue Jackets. So there's that.
The odds of getting a deal done with Nashville seem so remote from two fronts. But still, Section 303 points out that perhaps it could all be too much for either the Jackets or Nash to say no.
The Predators are willing to give up a Stepan-type (Wilson), a young blueliner with the same offensive upside (if not moreso) as Del Zotto and McDonagh (Ellis), a little insurance in Laakso and a first round draft choice for the same player that those other GM's are saying no to.

If you're Columbus, this is the best deal on the table right now by far. This is when the motivated parties come together and do what's best for everyone involved and make the deal.

Howson goes to Nash's camp and says "Look, you want out by Monday. This is your chance. Nashville has offered far and away the best deal. Take it or stick around until the summer." At that point, Nash and his agent have a decision to make. Accept the trade to Music City where Vezina Trophy finalist Pekka Rinne and future Norris Trophy winners Weber and Suter await or stay in the Buckeye State with the likes of Steve Mason between the pipes and an overpaid mediocre defense corps.
Wishful thinking to be sure, but there is some soundness to the conversation. I just can't see Howson dealing within the division even if Nash agreed to a move to Nashville.
So this all sets up for a very interesting final day of the Nash trade deadline sweepstakes. The heat is on Howson to move now, nobody likes a lame duck. It becomes a question now of who blinks first. Or if anybody will blink.
For more hockey news, rumors and analysis, follow @EyeOnHockey and @BrianStubitsNHL on Twitter.