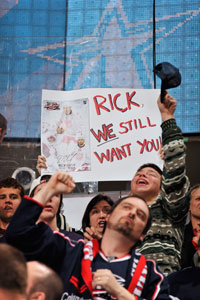 Columbus fans might get their wish ... for the remainder of this season at least. (Getty Images)
It looks like those fans at Madison Square Garden last weeks changint "We don't want you!" to Rick Nash are going to get their wish. At least for now, they aren't.
Multiple outlets reported on Sunday that the Rangers, long seen as the favorite to swing a deal for Nash if he were dealt before the trade deadline on Monday afternoon, are out of the race. They just weren't willing to bend to the Blue Jackets' insistent asking price.
Here's more from Katie Strang of ESPN New York.
Barring a drastic change, a deal to bring the prized winger to New York does looks unlikely, a source told ESPNNewYork.com
The Rangers were believed to be the front-runners for the former No. 1 pick whose availability has dominated trade talks in the days leading up to the deadline, but New York does not appear to be willing to concede to Columbus' demands.

Blue Jackets GM Scott Howson's asking price for the franchise player is reportedly significant; according to multiple reports he is asking for a roster player, top prospect and a first-round pick, if not more.

All along the rumors had it that the Jackets wanted either Michael Del Zotto, Ryan McDonagh or Derek Stepan and the Rangers weren't going to surrender any of those players. It was a stalemate and neither was willing to cave.
The asking price for Nash has always been high in this saga. Not that you can blame Columbus GM Scott Howson for staying so demanding in it all, mind you. But to make it a bit laughable, Darren Dreger of TSN says that that high price has actually gone up.
NHL Trade Deadline
More NHL coverage
NYR wasn't willing to pay price established for Nash prior to today + today CBJ asked for more than they were originally after.#tradecentre

— Darren Dreger (@DarrenDreger) February 26, 2012
This Nash saga has gone back and forth a lot. When his agent spoke up for the first time about the rumors, it sounded like the urgency was being put on the Jackets to get a deal done sooner rather than later. Then a contender falls by the wayside and the cost reportedly goes up.
It would appear to leave the Maple Leafs and possibly the San Jose Sharks in the conversation. There is also the possibility of dark horses in the Predators and maybe even the Flyers. But really it doesn't seem like the Jackets are going to find a deal that's amenable to them and Nash to where he'll be dealt on Monday.
Then again, who knows? We'll just have to wait and see by 3 ET on Monday.
More from Eye on Hockey
Nash: "I'm a Blue Jacket today"
Nash's agent speaks, Preds trying to get in
For more hockey news, rumors and analysis, follow @EyeOnHockey and @BrianStubitsNHL on Twitter.