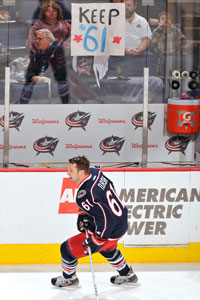 Columbus did exactly that, keeping No. 61. (Getty Images)
The deadline has come and gone and Rick Nash remained with the Columbus Blue Jackets. That's going to make for an awkward end to what has been a very miserable season in Columbus.
Blue Jackets general manager Scott Howson didn't help it become less awkward when he told the media at his post deadline news conference that it was Nash who approached the team about a trade, not the other way around.
"With respect to Rick Nash. He approached us and asked us to consider a trade. We agreed to accomodate his request as long as we could get a deal that would provide us with cornerstone pieces to help us compete for a Stanley Cup championship in the coming years," Howson said. "It did not happen by 3 o'clock today. This is too important to our franchise and our fans to do a deal that is not in our best interest. We pursued a number of options, but none provided the value back that we could justify trading a player of Rick's caliber.
"It doesn't really matter how close we were because it didn't happen. We had significant discussions today, but it didn't happen."
For the last two weeks the ebbs and flows of the Nash story were as constant as the ocean tides. The biggest name on the trade block by a long ways, the deals being discussed were more than blockbusters. They would have been franchise definers.
But much like the rest of the 2012 trade deadline, it didn't get done. Really, it exemplifies the entire deadline. It was a dull a trade deadline as we've seen in a long, long time. We thought last year was quiet with only 16 deals on deadline day. This year beat that by one deal.
All along the Jackets were demanding a very high price for Nash, and rightfully so. Scott Howson absolutely had to get a huge return for Nash and was dead set on getting it.
"The price was high and I don't apologize for that," Howson said. "It had to be high."
The Rangers, long viewed as the front-runners, were reportedly out on Sunday night of the Nash hunt. But they ramped it back up according to reports. A lot.
In fact, Darren Dreger of TSN said they made a very serious final push in the waning hours.
Don't know details, but indications are NYR made a mammoth offer for Rick Nash today and CBJ declined.#tradecentre

— Darren Dreger (@DarrenDreger) February 27, 2012
That mammoth offer? According to Larry Brooks of the New York Post, this is what it looked like:
Columbus GM Scott Howson rejected what is believed a Rangers' final offer of Dubinsky, 21-year-old defenseman Tim Erixon, 2011 first-rounder J.T. Miller, 2010 second-rounder Christian Thomas and a first-round selection in this June's Entry Draft.
That didn't fit Howson's high price and I can't blame him too much. He wanted one of four guys (Michael Del Zotto, Derek Stepan, Chris Kreider, Ryan McDonagh). The addition from previous reported offers was Christian Thomas, but it still wasn't enough.
Now all this means is that the talks will be put on hold. It really seems like this whole thing spun out of control so much that there is no way Nash can return to the Blue Jackets next season. The activity will pick up again in the summer time and you're likely going to see the same teams mentioned in the chase: The Rangers as well as the San Jose Sharks and Toronto Maple Leafs. Nash's agent said his list of teams he'll accept a trade to won't expand in the summer, so there likely won't be many surprise contenders, but you never know.
"He's a member of our team right now, he's our captain," Howson said. "That's not going to change, nothing's going to change. Obviously we are going to look at all of our options as we move forward. We'll see what happens once we get around the draft and this summer."
Howson essentially backed the bus up over his captain today. In no way did he really help this situation with his comments. Admitting that Nash came to him wasn't a great start to rehabbing the image, nor is it good in his pursuit of getting a great return. It became even more clear after this that Nash can't remain in Columbus now. He actively wants out and now everybody knows that. That strengthens the suitors' resolve in not caving to Howson's demands. Eventually if anyone caves you have to think it is Howson.
For more hockey news, rumors and analysis, follow @EyeOnHockey and @BrianStubitsNHL on Twitter.