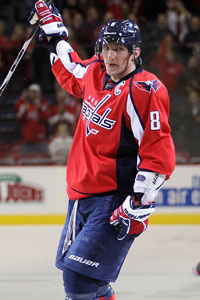 Ovechkin was the last player to score 60 goals in one season. (Getty Images)
In searching for answers to why Alex Ovechkin's scoring totals have gone down one year to the next recently, a lot of different theories have been floated. Some just point to the statistics and say a regression was in order. Some like myself have pointed more to the league figuring him out. Even others have gone to some other outlandish conclusions.
Since 2007-08 when he had 65 goals, Ovechkin's totals have gone to 56 to 50 to 32 last season. His 26 this year has him a little ahead of last season's pace.
In an interview with ESPN 980, Caps general manager offered something else up that could possibly bear an explanation, or at least a factor (from the Washington Post).
"I think the progression in his weights, he came in 218, 224, 232, 237, 242," McPhee said, which doesn't exactly reflect the team's prior reports. "He played at 242 once, and he got suspended for hitting a few people. And he was crushing guys, and he loved crushing guys, and we said you know what, Bruce always thought he was a better player at about 227. And you can see it when he's moving out there, he's flying."
Putting on 24 pounds isn't the best way to maintain your game when it relies a lot on speed and agility.
For the record, McPhee said Ovechkin is weighing in at 224 right now.
McPhee was also asked about Ovechkin's commitment to the game, something that was put in question by former Capitals goaltender Olaf Kolzig.
"Um, well, it's a lot better than it was," McPhee said, hinting that there was indeed some issues about his commitment level.
How much might this have to do with his numbers decreasing in recent seasons? I don't know. It would only be speculation on anybody's part so attempt to say what affect it had, if any. But the GM more or less admitting in a round-about way that Ovechkin wasn't as committed as much as he should have been is definitely an interesting sign.
For more hockey news, rumors and analysis, follow @EyeOnHockey and @BrianStubitsNHL on Twitter and like us on Facebook.