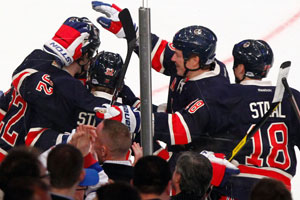 New York has done a lot of celebrating against their biggest foes this season. (US Presswire)
The New York Rangers are getting ready to lap the rest of the teams in the Eastern Conference at this point.
On Sunday they might not have been the best team on the ice at Madison Square Garden for most of the affair, they still prevailed for the 4-3 win over the defending champion Boston Bruins thanks to Derek Stepan's third-period snipe.
The win does a lot for the Rangers in the grand scheme of things. It moves them ahead of the Canucks and Red Wings for the most points in the NHL despite having played fewer games than those teams. It also gives New York a double-digit lead on the next best team in the Eastern Conference (that would be the Penguins).
There are a lot of reasons why. It starts obviously with the fact that they are just a really good team. No duh. But it obviously goes beyond that.
They have really made their money this season against the other top teams in the East. In this case I'm talking about the Bruins, Penguins and Philadelphia Flyers. Combined this season they are 10-2-0 against those teams so far. The only two losses came to the Penguins. They are 5-0 against the Flyers and now 3-0 against Boston.
Just imagine if that split were flipped and the Bruins were 3-0 against the Blueshirts. Each team would be locked at 85 points. Instead, the Rangers are 12 points up on the B's.
Another part of it is that the Rangers have been a bit lucky this season. I'm not taking away from their on-ice capabilities with that comment. It's about the fact that they have largely avoided the injury bug this season. Sure, they have dealt with injuries like every other team such as the concussion to defenseman Marc Staal.
But this is pretty stunning at this point of the season. This stat comes courtesy of the New York Post's Larry Brooks earlier this week. You can add three games on for Ryan Callahan, who was again a scratch today with a sore foot.
Until now, NYR top 9 F had missed total of 4 games--Dubinsky 3, Anisimov 1.

— Larry Brooks(@NYP_Brooksie) March 1, 2012
There are a lot of teams that would kill for that kind of fortune.
Just keep that kind of success against the top foes in the conference in mind when the playoffs roll around. That should be worth a confidence boost or two.
For more hockey news, rumors and analysis, follow @EyeOnHockey and @BrianStubitsNHL on Twitter and like us on Facebook.