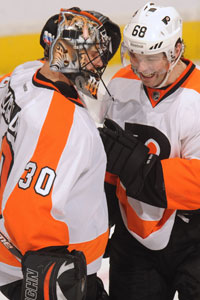 Bryzgalov and Jagr have a laugh after Sunday night's win. (Getty Images)
If you have been watching the Philadelphia Flyers play, chances are you have noticed a change in Ilya Bryzgalov. He has been starting to resemble a goalie worthy of the nine-year, $51 million contract he received this offseason.
In his last nine starts Bryzgalov has given up 19 goals, an average of a little more than two per start. He has also stopped 180 of the last 199 shots he's seen. That's a touch better than .900. Most recently, though, he stopped all 34 shots from the Capitals in a 1-0 shutout on Sunday night.
None of that is world beater stuff (although hard to quibble with that GAA) but it does mark an improvement. And that's not the only improvement the Flyers have seen in their goalie. Here is what Danny Briere had to say to Tim Panaccio of CSN Philly:
"We've seen all kinds of Bryz this year," Briere said. "He's never the same. He's all over the place. But the last couple of weeks, he's actually been a great teammate and hopefully, he stays that way.

"That's the way it should be. If he wants the guys to keep playing hard for him, he needs to be a great teammate the way he has been lately, and it's been fun having him around, too."
Read that how you want but I can't help but extrapolate Briere admitting that Bryzgalov hadn't been a good teammate this season. All of those antics that we've seen, mostly around the Winter Classic really were apparently rubbing some the wrong way.
So some of the players and the management have been talking with him this season and apparently the message is finally getting through.
"Before, just trying to bring everything, everything was about Bryz," Briere said. "When he played well, when he played bad, everything was about Bryz.

"I found lately, a lot more, it's not just about him. He's able to take the blame when there is and give credit to his teammates when that is. That is a learning process for him. New guys, new teammates."
Well, playing in Philadelphia certainly is different than Phoenix. And I say that as more than the obvious differences between the markets themselves but also the teams they ice. Not too take away much from Bryzgalov -- or Mike Smith currently -- but Dave Tippett's brand of hockey tends to make goalies look good. The Flyers have tended to play a much more open game that can expose a goaltender.
I've said before that I'm a fan of Bryzgalov. I would like to see him playing well because he is arguable the most entertaining individual in the sport.
Oh, and no Bryzgalov post today would be complete without this little rap from a fan in Philly dedicated to Ilya the Philosopher.
H/t to Puck Daddy for the video
For more hockey news, rumors and analysis, follow @EyeOnHockey and @BrianStubitsNHL on Twitter and like us on Facebook.