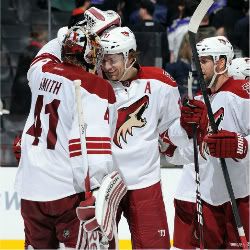 By: Adam Gretz
PITTSBURGH -- After cruising through the month of February without a loss in regulation or overtime, the Phoenix
Coyotes
have hit a rut at the beginning of March, losing three consecutive games, including Monday's 2-1 decision in Pittsburgh.
For a team that's already in what it considers to be playoff mode, needing every win it can get along the way in what is a completely unpredictable and constantly changing playoff race, that's a tough, and potentially costly, stretch of games.
The Western Conference race is so close right now that the Coyotes dropped from the No. 3 seed, and the top spot in the Pacific Division, all the way down to the No. 7 seed, losing the top spot in the division due to a tiebreaker to the Dallas
Stars
-- a team that didn't even play on Monday night. Entering Tuesday's game in Columbus the Coyotes are just three points ahead of the ninth seeded
Avalanche
, and one of four teams, along with Dallas, San Jose and Los Angeles, fighting for the Pacific Division crown.
Needless to say, it's a tight race.
After winning 11 of 12 games in February (the only loss came during a shootout in Vancouver), the Coyotes skyrocketed up the standings and had an opportunity late last week and over the weekend to continue their impressive run, only to drop home games to Calgary, and even worse, the
Blue Jackets
, the worst team in hockey for much of the season. It's turned into a small three-game losing streak that continued on Monday night, and slow starts have doomed them in each of the past three games.
They were out-chanced and outplayed for much of the game against the
Flames
on Thursday, and didn't start to generate any substantial or sustained offensive pressure against Columbus until mid-way through the third period on Saturday, at which point the game was already well in hand in favor of the Blue Jackets.
NHL Playoffs
More NHL coverage
There are no such thing as moral victories in professional sports, and there can't be, especially when it's this late in the season and playoff spots are on the line (as forward
Radim Vrbata
put it on Monday night game, "Points are what count and tonight we didn't get any") but Monday's game at least felt like it was a step back in the right direction, and even though they came up short, the vibe in the Coyotes room after the game was that they probably deserved a better fate. Facing one of the top teams in the NHL, on the road, the Coyotes at least seemed to get back to the style of hockey that resulted in their near-perfect month of February.
"I thought our compete level was very good," said head coach Dave Tippett. "We did a lot of things hard in the hockey game, it's unfortunate we didn't get rewarded around the net a little more. We created some opportunities there we didn't capitalize on, but we gave them a couple outnumbered breaks and they capitalized, and it ended up being the difference in the game."
Added captain
Shane Doan
, "We felt we controlled the game for most of the night, and then we had some moments where they kind of found some momentum, but we played the game the way we wanted to."
It was one of those nights where they outplayed their opponent for much of the game, only to lose because the other goaltender simply stole one in what turned out to be a pretty impressive goaltender duel between
Marc-Andre Fleury
and
Mike Smith
.
Smith, Phoenix's surprisingly strong and steady replacemen for
Ilya Bryzgalov
, seemed to be disappointed with his performance on Monday after giving up two early goals, including one to former Coyotes defenseman
Zbynek Michalek
, and talked about his need to be better. But it would be difficult, if not impossible for him to be much better than he's been this season, seeing as how he's already been one of the best goalies in the NHL. The Coyotes don't need him to record a shutout every single game (which is what it would have required to win on Monday), they simply need more consistent offensive pressure and efforts like the one they received in Pittsburgh, even if it came in defeat.
If they play like that over their remaining 16 games, they're going to win a lot more than they lose.
So what's facing the Coyotes the rest of the way? Their remaining schedule is split evenly, with eight home games and eight road games, and eight games against teams that are currently in playoff spots and eight games against teams that are not currently in playoff spots. The biggest issue they have within the division, as of Tuesday, is that San Jose and Los Angeles still have games in hand, and while they have no remaining games with the
Kings
, they still have to play the
Sharks
three more times, including two in Phoenix, a series of matchups that could determine whether or not the Coyotes win the division, or perhaps miss the playoffs entirely.
Whether they make it or not, every game the rest of the way is essentially a playoff game anyway.
Said Smith, "They started a month ago for us."
For more hockey news, rumors and analysis, follow @EyeOnHockey and @agretz on Twitter and like us on Facebook.