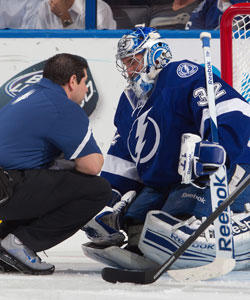 Garon is 23-16-3 with a 2.85 GAA, .901 save percentage. (Getty Images)
The Tampa Bay Lightning announced on Wednesday that goaltender Mathieu Garon will miss the next 3-4 weeks after tearing a groin muscle in Tuesday's home loss to the Ottawa Senators.
Just when you thought the Lightning might have it in them to come roaring back (see what I did there?) this happens.
It's no secret the Lightning have been struggling with their goaltending this season. That would probably be an understatement, in fact. But Garon has given them a little more stability and good enough goaltending since taking over the reins from Dwayne Roloson. As a result -- and Steven Stamkos' 28 goals in the last 32 games, of course -- the Bolts re-entered the playoff conversation not only in the East but the Southeast Division.
That could all come to an end with this news.
The 42-year-old Roloson came to Tampa last season at the trade deadline and was a catalyst in the Lightning making it to the Eastern Conference finals. He hasn't been anywhere near as good this season. His vital stats? A 3.82 goals against average and .878 save percentage. I have one word for that: Yikes!
In relief of Garon on Tuesday, Roloson played 55 minutes and gave up five goals on 30 shots (the Senators had two more in the empty net).
As a result the Lightning have called up Dustin Tokarski from the AHL, who recently ran off eight consecutive wins for the Norfolk Admirals.
Now, why not put a claim in on Marty Turco before he can join the Bruins? Well it turns out that Turco wouldn't be able to play this season by a team that claims him since it's past the trade/acquisition deadline. So it's Boston or bust for Turco.
What the Lightning could do is sign a goalie from Europe like the Bruins did and then wait for him to clear waivers. The only question is if there's anybody they'd want.
Now I'm not going to say the Lightning are done with this news, I pretty much said that after they started selling at the trade deadline, but it certainly doesn't seem to help matters.
For more hockey news, rumors and analysis, follow @EyeOnHockey and @BrianStubitsNHL on Twitter and like us on Facebook.