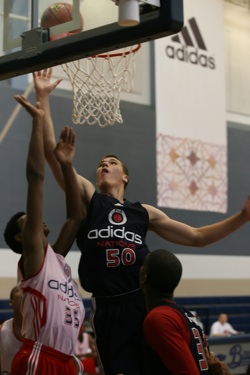 Barring multiple major moves from another school, the No. 1 recruiting class for 2012 will belong to Arizona.
With three top-30 recruits already in the fold, Monday's announcement by Kaleb Tarczewski that he would attend Arizona – over Kansas – only cemented the Wildcats' spot atop the rankings.
Tarczewski, a 7-foot center from St. Mark's (Mass.), is ranked No. 7 in CBSSports.com's Top 100. He runs the floor extremely well for a player his size, and knows how to finish around the basket. Tarczewski can score with both hands and he continues to develop various post moves.
He will join No. 6 Brandon Ashley, No. 23 Gabe York and No. 29 Grant Jerrett in the Wildcats' 2012 class. Essentially, Sean Miller now has two top-10 prospects as well as two other players who could end up as McDonald's All-Americans. It's not Kentucky getting four of the top-17 players like John Calipari did in 2011, but it's close enough – and certainly good enough to be the No. 1 class around.
Tarczewski's commitment also means more than just giving Arizona the top-ranked recruiting class in 2012. The Wildcats might be the preseason favorite to cut down the nets next season.
Miller brought in a top-five recruiting class last season, and all four of those players will likely stick around for next season. Just think about this lineup:
Point guard: Josiah Turner
Shooting guard: Nick Johnson
Small forward: Kevin Parrom or Solomon Hill
Power forward: Brandon Ashley
Center: Kaleb Tarczewski
Turner and Johnson were both five-star guards in 2011, while Parrom or Hill will provide a veteran presence in the lineup. The bench will include Jordin Mayes, York, Jerrett, Sidiki Johnson, Angelo Chol and either Parrom or Hill. That team is certainly capable of winning a national championship in two seasons.
Just think about where Arizona was a few years ago. Prior to last season, Arizona had not won more than 21 games since 2005, and even snapped their 25-year streak of reaching the NCAA tournament when they missed out on the Big Dance in 2010. With Derrick Williams leading the way last year, Arizona came within a game of the Final Four, and Miller has the Wildcats as a top-20 team again this season even without Williams.
There were rampant rumors this offseason that Miller would leave Arizona for the vacant head coaching job at Maryland. However, he decided to stay in Tucson and continue to rebuild Arizona.
It looks like the rebuilding is over – the Wildcats are back among the nation's elite.
Photo: Adidas Nations