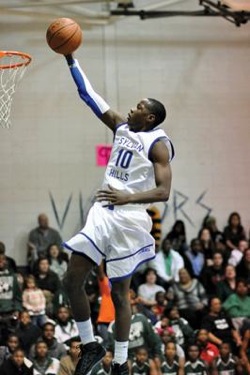 Kentucky fans were nervous when John Calipari had no commitments heading into the fall. Despite getting Archie Goodwin (pictured) and Willie Cauley, the legion of Wildcats supporters are still not content with the current class.
Don't fret, Big Blue Nation. Calipari isn't done yet.
Let's start with who they already have in the fold. Goodwin is arguably the best scoring guard in the country. Ranked No. 6 in our Top 100, the athletic Goodwin is explosive going to the rim and can take over a game with his ability to score off the dribble. Cauley had a really impressive spring and summer circuit. The 6-foot-11 big man is a top-40 prospect and is only getting better. Defensively, he can block shots and he runs the floor very well for someone his size.
With those two, Kentucky already has the No. 8 class in the country. If Calipari didn't get another player in the class, the Wildcats would be fine for 2012-13, especially considering North Carolina State transfer Ryan Harrow will also be eligible to play next season.
Of course, that's not good enough in Lexington; and with the way Calipari has stocked the cupboard in recent years, it's tough to blame the fans for wanting more.
Fortunately for Cal, he's in good shape with plenty of top remaining prospects. Alex Poythress and Gary Harris are both making their decisions this week, and the Wildcats are in the final groups for both players. Poythress will decide between Kentucky, Vanderbilt and Memphis, while Harris also has Michigan State, Purdue and Indiana on his list. Both recruitments are very tough to read right now, but it wouldn't shock anyone to see Kentucky land at least one of the two.
Amile Jefferson is also planning to decide fairly soon. Kentucky turned up the heat on him in the past few months, and the Wildcats are in his final five. It would take a lot for Kentucky to get him, but don't count it out.
Jarnell Stokes and Kentucky became a commodity only a week ago, but the Wildcats made enough of an impression on Stokes that he visited the campus this past weekend. Memphis and Arkansas are also in good shape with Stokes, but Calipari is certainly turning up the heat.
Looking down the road a little bit, Kentucky might be the favorite for Devonta Pollard, yet another five-star forward. He plays football, so he has not made much progress in his recruitment, but the Wildcats and Mississippi State seem to be the two schools most associated with him.
Canadian forward Anthony Bennett is wide open right now, with nine schools still on his list. He plans on waiting until the spring to decide, though, so we could see Kentucky make a move on him if it strikes out with some of their fall targets.
Don't forget Shabazz Muhammad, either. The nation's top-ranked prospect isn't close to making a decision, and UCLA is still considered to be the leader for his services. With that said, he was on Kentucky's campus for Big Blue Madness and is certainly looking at the Wildcats.
Will Kentucky get all of these targets? Of course not. But the Wildcats won't strike out with all of them, either.
Based on Calipari's track record, it's a good bet that at least two of the aforementioned players will end up in Lexington. Be patient, Big Blue Nation.
Photo: PremierBall.com