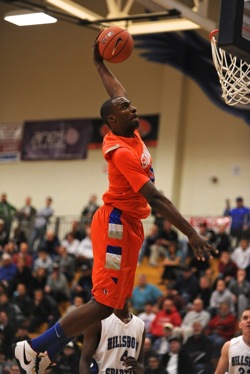 Several of the remaining five-star prospects have plans to announce their decisions over the next week or two.
One player who will undoubtedly wait until the spring to make a commitment, though, is the No. 1 prospect in the country, Shabazz Muhammad.
Muhammad, a 6-foot-5 swingman from Bishop Gorman (Nev.), has been atop the rankings for much of the past year. His performance in the summer only cemented his spot at No. 1. The lefty is a dominant scorer, especially going to the basket. He has great mid-range ability and is also very effective finishing at the rim. If Muhammad can knock down 3-pointers with consistency, he is going to be a huge problem.
Of course, a whole list of teams would love to get Muhammad's pledge for next fall. His list has stayed mostly the same for the past few months, with UCLA, Kansas, Kentucky, Duke, Kentucky, Texas A&M, USC, UNLV and Arizona all chasing the talented prospect.
It's not a surprise that Muhammad won't make a decision. He has only taken two official visits – to Texas A&M and Kentucky – and has not seemed to be in a rush to get the other trips out of the way. Muhammad plans to visit Duke for its game against North Carolina in the fall.
The team thought to be the leader for most of his recruitment has been UCLA. The Bruins have received an unofficial visit from Muhammad, and there have been rumors that Muhammad wants to play with current Bruin commit Kyle Anderson. Without a pledge yet, though, UCLA can't feel safe.
Kentucky, Duke and UNLV are on UCLA's heels. The Wildcats have made up ground in the past several months, and Muhammad was on campus for Big Blue Madness. John Calipari going hard after other forwards makes one think he has plenty of backup plans. Duke has always been in the mix for Muhaammad; he's impressed with Mike Krzyzewski. UNLV isn't the power that the other three are, but the Runnin' Rebels have the location advantage.
It's tough to count the other teams out, too, especially since he's taken unofficial or official visits to each of them and could take more trips throughout the year.
Unlike some other prospects, Muhammad could wait as long as he wants to make a decision; coaches and teams won't back off of him because he's taking his time choosing a school. He wants more information on each of the schools; it's refreshing to see a kid go through the entire process and make an education decision after much deliberation.
Some star players will have stressful decisions to make in the next week, but Muhammad definitely won't be one of them.
Photo: MaxPreps