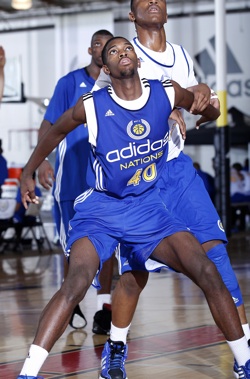 SPRINGFIELD, Mass. – For the past couple of months, it has seemed like Amile Jefferson was on the verge of making a decision.
This time, he might really mean it.
"It's getting close," Jefferson said over the weekend. "I'm hoping it's soon. It's day-to-day. We're going to sit down and give each coach one more call."
Jefferson, a 6-foot-9 forward from Friends Central (Pa.), is ranked No. 13 in CBSSports.com's Top 100. He is considering five schools heading into the home stretch: Villanova, Ohio State, North Carolina State, Kentucky and Duke.
"There's a lot of pressure," Jefferson said. "You get the pressure from fans. There's no more courting. People want you to make a decision."
Duke is one of the schools getting plenty of attention with Jefferson the past few weeks. Mike Krzyzewski turned up the heat on him recently, becoming a major player in his recruitment after sniffing around for a while.
The Blue Devils are squarely in the mix.
"Duke was always a school I had interest in," Jefferson said. "I've been talking to Coach K. You go there, you know you have a chance to compete for national championships and play with some of the best players in the country."
Before Duke was one of the finalists, Jefferson had taken official visits to Villanova, Ohio State, NC State and Kentucky – but not to Duke. In fact, he hasn't seen the Durham campus since his sophomore year.
However, it doesn't look like that will hurt the Blue Devils' chances.
"I don't think so," Jefferson said. "I've seen a lot and I talk to coach K and coach [Chris] Collins a lot."
Is Duke the new favorite? We'll see by the end of the month – maybe.
Photo: Adidas Nations