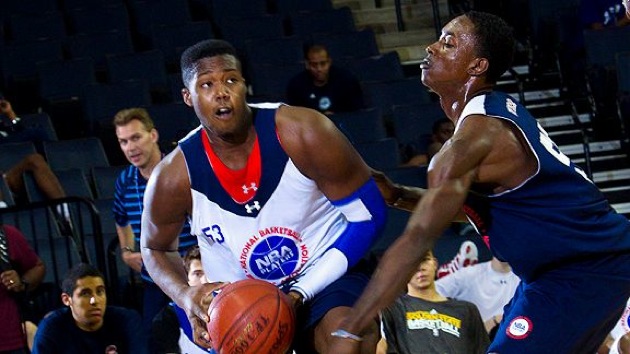 Georgia Tech-signee Robert Carter was the only top-25 player -- besides the recently reclassified Nerlens Noel -- left out of the McDonald's All-American game this season. (ESPN)
High school All-American games are usually filled with plenty of questionable selections and interesting inclusions. With so many varying opinions and players to choose from, it's not surprising to get some surprises.
With that said, the McDonald's All-American game just announced its rosters for this year's game – and did a really good job.
The most obvious player left out is the No. 1 player in the class, Nerlens Noel, but he reclassified just last week, when the ballots were already sealed. Some people can complain about that, but it's not the committee's fault he reclassified too late.
If you're wondering where Kaleb Tarczewski, Mitch McGary, Steven Adams and Ricardo Ledo are, stop wondering. Fifth-year players are ineligible to play in the game – although all three were listed on the list of nominees, which makes no sense to me. The same goes for Xavier-signee Semaj Christon, who has made his case as one of the best point guards in the country this season.
The only eligible player in our top 25 that was left off the team is Georgia Tech-signee Robert Carter. The 6-foot-8 big man from Shiloh (Ga.) has some of the best post moves in the country, and is one of the more effective back-to-the-basket players in the class. He's not as well-known as some of the other five-star prospects, but Carter is certainly deserving of a nod.
Outside of Carter, the only other player who I think deserved a spot would have been Maryland-bound Shaq Cleare, who is apparently having a very good school season as well. Danuel House (Houston), Hanner Perea (Indiana), Sam Dekker (Wisconsin), Jeremy Hollowell (Indiana), D'Vauntes Smith-Rivera (Georgetown), Katin Reinhardt (UNLV) and some others could make cases, but they were rightfully left out.
In terms of inclusions, there were only two players outside of our top 30 that made the cut, No. 33 Perry Ellis and No. 55 Tyler Lewis. As pointed out by my colleague Jason Hickman at MaxPreps, Ellis is arguably the most accomplished high school player in the class (along with Kyle Anderson). He's on track to finish with four state titles at Wichita Heights (Kan.), which has won 56 consecutive games. As a result, it's difficult to argue with his inclusion.
Lewis is a highlight reel point guard who is one of the best passers in the class, and is entertaining to watch. With that said, he's not one of the 24 best players in the country, or one of the five best point guards in the class. I don't think Lewis truly deserved a spot in the game, but he will undoubtedly make the most of it, and people will love watching him push the ball in transition. It's tough to argue with the entertainment factor.
Compared to last year, the McDonald's Selection Committee did a far better job with the rosters. There are a couple of gripes here and there – and it's unfortunate that Nerlens Noel reclassified too late – but overall, the talent in the class of 2012 will be well represented in Chicago.

EAST
Kyle Anderson (No. 5, UCLA)
DaJuan Coleman (No. 11, Syracuse)
Kris Dunn (No. 24, Providence)
Perry Ellis (No. 33, Kansas)
Shaq Goodwin (No. 21, Memphis)
Gary Harris (No. 16, Michigan State)
Amile Jefferson (No. 14, Uncommitted)
Tyler Lewis (No. 55, NC State)
Tony Parker (No. 22, Uncommitted)
Alex Poythress (No. 13, Kentucky)
Rodney Purvis (No. 18, NC State)
T.J. Warren (No. 25, NC State)

WEST
Brandon Ashley (No. 4, Arizona)
Isaiah Austin (No. 8, Baylor)
Anthony Bennett (No. 15, Uncommitted)
Kevin "Yogi" Ferrell (No. 27, Indiana)
Archie Goodwin (No. 7, Kentucky)
Grant Jerrett (No. 23, Arizona)
Shabazz Muhammad (No. 2, Uncommitted)
Marcus Paige (No. 28, North Carolina)
Devonta Pollard (No. 20, Uncommitted)
Cameron Ridley (No. 9, Texas)
Marcus Smart (No. 10, Oklahoma State)
Rasheed Sulaimon (No. 12, Duke)