A's Young Staff Exceeding Expectations

The Oakland
Athletics
are 25-30, 7th worst record in the majors, sitting 7.5 games out of first place and in dead last in the AL West.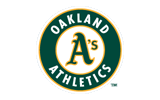 So why are A's fans still smiling?
Well, it's simple, really.
"We know something you don't know".
Okay...Now I know that sounds pretty childish, but it holds true. The majority of baseball fans probably don't care about this team. After all, people rarely talk about the worst teams in baseball unless there is some major story going on. So unless people are talking about
Matt Holliday
trade rumors or about what day Giambi will break out his golden thong this year, the A's won't get much run in the public media. Neither will their players.
And it's all for the better. Fans of opposing teams will be in for a surprise when they start playing Oakland this year.
There are some people who choose to neglect baseball statistics and follow what they see with their own eyes. The problem with this, is the minute they blink, they may have missed something important. Then, there are others that swear by the numbers, but don't fully understand them or don't bother to understand the meaning behind the,. And lastly, there are those who look at the numbers, try to establish trends, and predict the future.
I'm that third type of fan and as such, see the constant progression of the A's young pitching staff.
For the majority of the year so far, much of the blame for the Athletics lackluster start has been on the starting pitching. After all, the teams opening day roster featured two 21 year olds, one 24 year old, and two 25 year olds in it's rotation. Nobody could possibly think the A's could have success with this "kiddie corpse" (as CBS writer Scott Miller once called it) taking the hill for them.
What were Billy Beane and Bob Geren thinking?
The Answer: A chance at success this season and in the years to come.
Nobody would have questioned Beane or Geren had they decided to keep the same starting rotation they ended last year with some combination of
Justin Duchscherer
,
Sean Gallagher
,
Dana Eveland
,
Dallas Braden
,
Gio Gonzalez
, or
Greg Smith
. Not a single person would have thought twice about it.
But there is a thing about having four rookies in a pitching rotation that makes people uneasy. It's not the typical formula for success, but if all of the players are extremely talented, should it really matter? After all, three of the A's four rookie starters (
Trevor Cahill
,
Josh Outman
, and
Vin Mazzaro
) didn't even outperform the players they ended up replacing during spring training. So how did the A's management know to turn to them so soon?
No matter what the scouts say, no matter how good of "stuff" pitchers have, rookies fail. That's what we are led to believe for some reason or another. Perhaps, the rationale behind it stems from just being a fan of the game. If we anticipate failure, we don't become let down when a player fails to adjust to the major leagues. When a player succeeds, or does what normally should be expected based on the opinions of baseball experts, they are to be considered an anomoly. So to expect four rookies to all have success in a season, many would consider crazy.
But maybe that's why those same skeptics aren't the ones sitting in the GM's chair.
The A's have been in rebuilding mode for the past season and a half. The team conducted a firesale last season of any player where they could redeem value. As aggravated fans were forced to buy into the rebuilding efforts, they looked for something new that they could hope for, something that would bring hope to this team. They found that in the teams newly restocked pitchers in the farm system.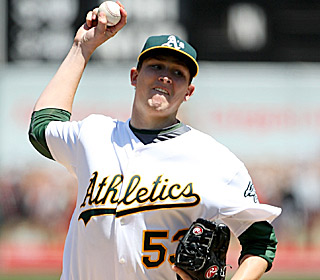 Already nicknamed "The New Big Three," Trevor Cahill,
Brett Anderson
, and Vin Mazzaro had larger than life expectations placed upon them. After all, the original "Big Three" (
Tim Hudson
, Mark Mulder, and
Barry Zito
) that Oakland fans grew to love, were a combined 275-144 in their time with A's.
Cahill, 21, was drafted by the A's in the 2nd round of the 2006 amatuer draft out of high school. He has pitched phenominally throughout the A's minor league system. Last season alone, Cahill posted a 2.78 era for Single-A Stockton and was promoted to AA Midland where he was 6-1 with a 2.19 era before playing for team USA in the Summer Olympics. Baseball America named Cahill the A's number two prospect behind Anderson and mlb.com named Cahill the 17th best prospect in the game.
Through 12 starts this season, Cahill's record stands with a 3-5 record and an era average of just 4.21. All in all, it seems farely average for the hype that Cahill has been receiving, right? However, it should be noted that Cahill has only given up more than two runs in a game only twice this season.
No....That wasn't a typo....He's only given up more than
two runs a game only twice
....
So what's with the inflated era?
...
Two bad starts resulting in 14 earned runs (of the 31 total earned runs he's given up) for the youngster. If you don't count those two starts, Cahill's era would be among league leaders at 2.49. Unfortunately, they do in fact count causing pessimists to think Cahill has struggled throughout the year. As you can see, it's simply not the case.
Anderson, also 21, was acquired by the A's as one of the centerpieces to the
Dan Haren
trade and immediatly became the A's top talent of their farm system. After posting a 2.83 era this spring in Arizona, Anderson let it be known that he wanted to be on the A's opening day roster this year instead of the minor leagues. He was granted his wish.
Anderson has shown signs that he belongs in the majors. He has only had trouble dealing with "big innings" in many ballgames and also played through an early season hand injury in order to stay on the big league roster. His era stands at 4.97 now, but he is finally fully healthy and dealing. In his last four starts alone (note that three of them were on the road), Anderson is 3-1, with a 3.52 era and 1.21 WHIP.
As for Mazzaro, he's been somewhat of a surprise. He was drafted by the A's in the 3rd round of the 2005 draft out of high school, but had struggled at the lowest levels of minor league ball. It wasn't until last season at AA Midland that Mazzaro started to get noticed again. Pitching in 22 games last year for AA Midland, Mazzaro had a 1.90 era forcing a promotion to AAA Sacramento.
In spring training this past year, Mazzaro was performing lights out until his final few starts. Management decided to send him back to Sacramento to work on a few issues before promoting him to the big league club.
It paid off. Mazzaro has only been with the A's for a week now, but in that time period, he's started two games and has pitched 13.2 innings of shutout baseball.
Meanwhile, lost in the hype have been the A's two most productive pitchers on the year. Josh Outman and Dallas Braden. Outman, acquired last year in the
Joe Blanton
deal, was named the A's 5th starter out of spring training and has surpassed all expectations. His era, currently sitting at 3.09, is the best of any A's starter and he's posted a quality start in five of his last six outings.
Braden, a third year player, has only allowed more than three runs in a game once this season and has already 9 quality starts in his 12 starts. At 25, he is the veteran of the staff and has adjusted well to his newly found "ace" role with the team.
The young staff is performing well above the downfall everyone predicted them to have.
There will always be skeptics though. CBS writer Larry Dobrow said just last week in his weekly power rankings that "it's bad enough the A's rushed Trevor Cahill and Brett Anderson to the majors. Now they'll do the same with Vince Mazzaro, who will be served up like a sacrificial offering to the
White Sox
tonight. Let's stop all the 'Glavine and Smoltz took their lumps as young pitchers, too,'rationalizations whenever a team throws an untamed newbie pitcher into the deep end of the pool; those two were the exception, not the rule."
So much for that. While Cahill, Anderson, and Mazzaro may not be the next three hall of famers, they will bring the A's success.
With the A's offense heating up and starting to support this young staff, the team has now won six games in a row and has new life. The A's pitching staff is getting better with each start. While nobody is paying attention, this team may very well get themselves back in it. As most baseball fans know, strong pitching will dictate the success of a team and the A's plan to have these strong pitchers around for a very long time.