As a coaster enthusiast and Dale Earnhardt Sr. fan, imagine my intrigue when an e-mail came through my inbox announcing an Earnhardt-inspired coaster dubbed Intimidator 305.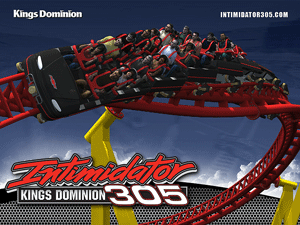 And this thing sounds awesome. Set to open in April of 2010 at Kings Dominion in Virginia, it features a 300 foot first drop and reaches speeds in excess of 90 mph with a ride time of three minutes. The ride trains will take inspiration from Earnhardt's famed black No. 3 car (though from the virtual renderings it doesn't appears as if the No. 3 appears on the actual train). The coaster is being built in parternship with Dale Earnhardt Inc.
You can check out a web site dedicated to the ride featuring artist renderings, virtual ride video and more: http://www.intimidator305.com/
Eventually I hope to visit all the great coaster parks like Kings Dominion and Cedar Point, but I'm waiting for my kids to get a little older. Hopefully they'll enjoy coasters as much as I do -- and at an earlier age as I was a late bloomer. It wasn't until I was in high school that I really became a fan. For years you couldn't even get me to go on Disney's Space Mountain, which aside from being in the dark, is a fairly tame coaster. But now I'll go on anything.