Since my favorite team -- the Steelers -- are headed to the Super Bowl again, I was thinking about getting a shirt or jersey or something with the logo on it.
One problem ... I don't really like the look of the logo this year, it's just kind of blah. Take a look at all the other past Super Bowl logos and compare this year's to the others. It's just kind of plain.
Here are my rankings of the best five Super Bowl logos of all time: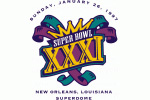 5. Super Bowl XXXI: There is no question where this game was held -- and that's what makes this Super Bowl logo so good, because it's city specific. I could show this logo to my mom, who doesn't follow sports, and she would know the game was in New Orleans. Great colors really makes this logo stand out. Green Bay beat New England, which wasn't a bad game either.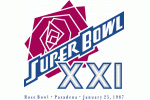 4. Super Bowl XXI: The first logo to use more than just the name and the number. It's simple, but it works to perfection. With the rose there, you automatically know the game was in Pasadena, Calif. and played at the Rose Bowl. The Giants fans will remember this game too, because its the one where they beat the Broncos.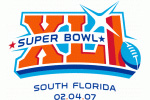 3. Super Bowl XLI: The one main reason I like this logo is what they did with the I. Brilliant idea making the I an end zone pylon. I was hoping for a little more "Miami" feel with the logo -- maybe a sun in the background, palm trees or bikini chicks, but the colors go along with the whole Marlins/Dolphins and stadium colors. Peyton Manning probably likes this logo the best too, since he won his first Super Bowl in Miami.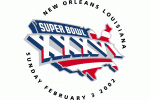 2. Super Bowl XXXVI: Great idea putting the entire United States as a back drop and using the red, white and blue colors. Now this game was in New Orleans too, but since they already did a "Mardi Gras" themed one, they couldn't go the same route. After 9/11 everything was geared toward the unity of America and this one captured that theme perfectly. Was also one of the best games in history where the Patriots beat the Rams 20-17.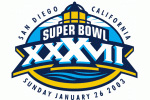 1. Super Bowl XXXVII: I don't know what it is about this logo that makes it my No. 1, but it just is. Maybe it's the colors, maybe it's the lighthouse with the water underneath. It really gives you that west coast feel with the Chargers colors. Living in Florida my entire life, I thought it was kind of fitting that Tampa Bay won this game because there are lighthouses in the Tampa/St. Pete area too. You might not think this is the best one, but it is in my eyes.
Which logos are your favorites?