While Miami (Fla.) and Michigan are grabbing headlines with their return to the Top 25 another team is quietly moving up the ranks.
With its 41-30 victory over West Virginia, Auburn improved to 3-0 and vaulted up the CBSSports.com 120 rankings from No. 44 to No. 23.
"I think it is huge. No. 1 this was a really, really good football team," said Auburn coach Gene Chizik after the West Virginia game. "I wasn't sure exactly where we were at to be honest with you."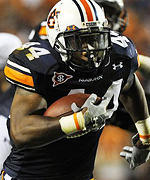 The biggest reason for Auburn's success has been on offense.
The offense is ranked eighth in the nation in total yards and 11th in the nation, averaging 42.3 points per game. Quite a turnaround for a team that was 105th in total offense in 2008.
For the diehard fans of college football it should come as no surprise as offensive coordinator Gus Malzahn is calling the plays. At Tulsa last year, Malzahn's offense was No. 1 in the NCAA. Even during his one-year stint at Arkansas, the Razorbacks won the SEC West, finishing at 10-4.
Quarterback Chris Todd has seen an immediate change under Malzahn. He has already thrown six touchdown passes in three games. Last year, he had five touchdowns and six interceptions while sharing time with Kodi Burns.
"When everyone buys in, it makes a huge difference," said running back Ben Tate. "We didn't have that last year. If you sit back and look at it, it's pretty much the same team from last year. We just have a different philosophy this year. Everybody believes in what we're doing. The coaches believe in us, and they're pushing us a lot harder."
It's still unsure how Auburn's new offense will work against the rest of the conference, but the Tigers will get their first test at Tennessee on Oct. 3.
But for now, sit back and enjoy the Malzahn show.
Colorado State
The Rams have also stormed up the rankings, sitting at No. 42 right now after being ranked No. 72 last week. The Rams are 3-0 for the first time in 15 years, beating Colorado, Weber State and Nevada.

A big reason is the defense. Last season the team was last in the nation in sacks and had just 22 turnovers. So far this season, Colorado State has seven sacks and 10 turnovers. Against Nevada, the Rams forced five.

"When you have confidence, you can go play fast and hard," defensive coordinator Larry Kerr said after the game. "What we added today was we played smart. We didn't make dumb mistakes. We kept ourselves in the right position against a very talented offense."

Things do start to get tougher for Colorado State as the Rams play at BYU this weekend.

SEC
Six SEC teams are ranked in the Top 25, including four in the Top 8 (No. 1 -- Florida; No. 3 -- Alabama; No. 6 -- Mississippi; No. 8 -- LSU). The second-most is the ACC -- (No. 11 Miami; No. 14 Virginia Tech; No. 22 North Carolina and No. 25 Florida State).
Notes
... Washington had the biggest leap, moving from No. 80 to No. 36 after beating Southern California.
... Nevada had the biggest fall, falling to 0-2 after losing to Colorado State. The Wolf Pack fell from No. 50 to No. 74. Northwestern had the second-biggest fall, dropping from No. 52 to No. 71 after losing to Syracuse.
... First win of the season? Three winless teams get to play FCS teams this week. No. 115 Utah State faces Southern Utah; No. 114 Tulane plays McNeese State and No. 107 San Jose State takes on Cal-Poly. If any of those teams lose, they will be on "going winless" watch for the rest of the season. Speaking of playing FCS teams, No. 120 Western Kentucky lost to Central Arkansas 28-7.
... Miami's strength of schedule is ranked No. 1 according to CBSSports.com. It shouldn't come as any surprise as the Hurricanes have played Florida State and Georgia Tech the first two games. It also has Virginia Tech this weekend and Oklahoma next weekend.
... South Florida's SOS is ranked No. 120. The Bulls have played FCS teams Wofford, Charleston Southern and Sun Belt member Western Kentucky, which is easily the worst schedule in the nation. Things to get tougher as the Bulls play at Florida State this weekend.